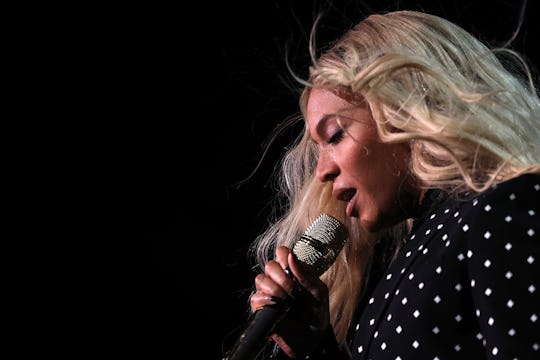 Justin Sullivan/Getty Images News/Getty Images
How Premature Were Beyonce's Twins?
Beyoncé's twins, whose birth was announced this weekend, were reportedly born premature, according to TMZ. Several sources connected to the family told TMZ the babies are currently "under the lights" in the hospital. That phrase is usually used to refer to premature babies who have elevated bilirubin levels, which results in jaundice. So just how premature were Beyoncé's twins? It's not clear yet, but the condition isn't serious.
The "lights" are a form of phototherapy, which a baby's skin and then blood can absorb. According to The Hollywood Gossip, a source has told the outlet that doctors have noticed a "minor issue" with the twins, and according to WebMD, most babies have mild jaundice, so the "lights" comment is possibly referring to that condition.
Mathew Knowles, Beyoncé's father, announced the birth on Instagram and Twitter on Sunday, according to Reuters. But it still hasn't been confirmed exactly when they were born, and details about the delivery and the health of the celebrity mama and her twins are scarce. Although their grandfather's message was the first confirmation from a family member that the twins had arrived, there are conflicting reports as to whether they were born on either Monday, June 12 or Tuesday, June 13.
What is known is that the twins were apparently born premature. So just how preemie are Beyoncé and her husband, JAY-Z's, new babies?
There has been no immediate word on the gender of Beyoncé's babies or of their names, according to CNN. Only limited information has been released, but most outlets are reporting that the twins were born early. And it sounds like Beyoncé is staying close — according to Life&Style magazine, Beyoncé is doing well, and has remained in the hospital with her babies.
The publication reported that, while the twins are expected to be OK, it's not yet clear when they and their mother will be able to go home.
Just Jared also reported that Beyoncé didn't reach full term with her twins, but according to the University of Rochester Medical Center, that's actually not that uncommon.
The medical center reported that, while most births of single babies happen at 39 weeks, the average length of a twin pregnancy is only 35 weeks. That's a month's difference, and that can mean a difference in birth weight, health, and other developmental stages. The Rochester medical center reported that a lower birth weight can result in short-term, brief concerns such as jaundice, anemia, or trouble breathing, all of which are issues that could keep the twins at the hospital just a little while longer.
And although fans rejoiced on social media over reports of the birth of Beyoncé and JAY-Z's newest babies, it might be a bit, well, premature to expect much news about the newborns. The family probably wants some privacy, especially if the twins are dealing with any sort of medical issue, no matter how minor.
And that's their right. The family can let fans know as much or as little as they want to about the birth and details about the twins when the babies get the all-clear and can go home. But Beyoncé is usually pretty good to her Bey-hive, and she's been pretty excited about sharing photos of herself during this pregnancy. Hopefully she'll also be generous with photos of the new family additions soon, too.