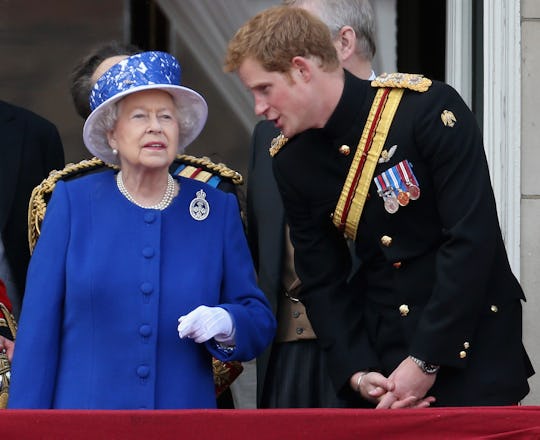 Chris Jackson/Getty Images Entertainment/Getty Images
Even Prince Harry, Longtime Royal, Panics When He's In The Presence Of The Queen
Anyone would be intimidated by the United Kingdom's ruling monarch, Queen Elizabeth II — including her very own grandchildren. The Queen always seems so polished, put together, and oh so proper in every public appearance that she makes. So, of course, it's easy to understand how Prince Harry feels when he "bumps" into the Queen, because, as it turns out, he gets a little overwhelmed, just like anyone else would.
Prince Harry was interviewed for an upcoming documentary about the royal family and he had some revealing things to say about his grandmother, according to The Telegraph. In the documentary, according to The Telegraph, Prince Harry can be seen addressing a group of hospitality professionals from the Caribbean visiting Buckingham Palace (aka the Queen's main residence). Since Prince Harry is known for his charming personality, as noted by The Independent, it shouldn't come as a surprise to anyone that he charmed these guests with his hilarious tales of running into the Queen in the halls of Buckingham Palace. And he was definitely full of jokes, as The Telegraph reported.
"You guys have spent way more time in Buckingham Palace than I ever have — and you've only been here for two weeks," he said in the documentary.
But he also had the best advice for them on how to feel if they were to bump into the Queen unexpectedly — because it's a feeling he said he experiences all the time.
According to the Telegraph, Prince Harry said:
Have you bumped into the Queen yet? If you suddenly bump into her in the corridor, don't panic. I know you will. We all do!
You would think that Prince Harry would be used to being in his grandmother's presence. For the past 34 years, Prince Harry has spent a lot of time making public appearances and attending family gatherings with his grandmother, according to Town & Country. But that doesn't mean that he, along with other members of the royal family, don't get nervous by her presence from time to time, although it's likely he was only joking with these Buckingham Palace guests (especially since Prince Harry is a notorious jokester, as noted by Town & Country).
But at the same time, it's easy to see why anyone would be intimidated by meeting the Queen, including Prince Harry and his other royal family members. The Queen is the world's longest reigning monarch, spending the majority of her life on the royal throne, according to Harper's Bazaar. If that fact wasn't daunting enough, according to Harper's Bazaar, the Queen also served in the armed forces, speaks fluent French, has two birthdays, and a jewelry collection that would make anyone faint. Not to mention, when you eat with the Queen (or even spend some time with her), there are a bunch of rules to follow, according to HuffPost. Needless to say, she is one very interesting lady (which makes her just a bit intimidating). And because of this, it's very easy to see why anyone (royal or not) might be nervous to "bump" into her.
In spite of his jokes, Prince Harry and his grandmother have a fantastic relationship, albeit a professional one. When Prince Harry was dating his wife, Meghan Markle, the Queen was quick to "approve" of their relationship, according to Us Weekly.
But at the same time, Prince Harry tends to keep things professional around his grandmother. "I still view her more as the Queen than my grandmother," Prince Harry said in a 2016 documentary about the Queen, according to People. "You have this huge amount of respect for your boss and I always view her as my boss, but occasionally as my grandmother."
However, the Queen herself has insisted that she isn't as intimidating as she may appear. During a 2017 royal appearance in Wales, Queen Elizabeth told some soldiers that she thought they appeared to be less intimidated by her than in years past, according to People.
"She commented at lunch about how much more engaging soldiers are these days," one soldier told People. "She thinks it is because she is now a little older, that she is now a little less frightening, which gives you a view of her humility."
Although bumping into the Queen in Buckingham Palace definitely sounds nerve-wracking, as Prince Harry stated, people shouldn't panic — especially since the Queen has stated herself that her age has made her less intimidating than ever before.