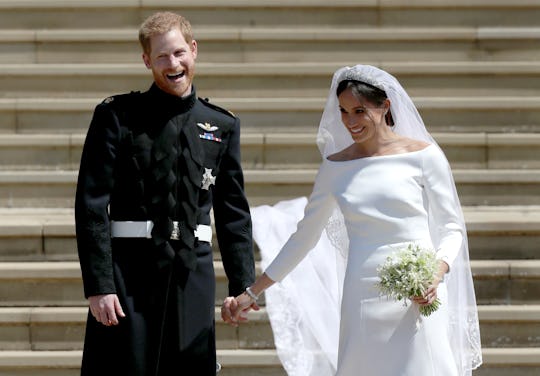 WPA Pool/Getty Images Entertainment/Getty Images
How Prince Harry Proved He Was An Expert With Kids During The Royal Wedding Is So, So Cute
Anyone who watched Meghan Markle and Prince Harry's royal wedding on May 19 will likely say that it looked like everything went incredibly well. Not only this, but it looked like every guest in attendance looked so happy to be there. From Prince Harry's family members, to Markle's famous friends, to even the smallest guests in attendance — Markle and Prince Harry's bridesmaids and page boys. But the wedding could not have gone as smoothly without Prince Harry's charming personality. In a new interview, Markle's makeup artist and longtime friend, Daniel Martin, revealed to People how Prince Harry proved he was an expert with kids during the royal wedding and it will make you fall in love with the prince (if you haven't already).
When it comes to placing kids in a high pressure situation, a lot can certainly go wrong. Kids can suffer from stage fright or get so caught up in the moment that they start running for the door. But that obviously wasn't the case with Markle and Prince Harry's bridesmaids and page boys, who handled the situation with natural ease. While you have to give credit to the kids (which included the future King of England, Prince George, and his younger sister, Princess Charlotte) some of this credit can be attributed to Prince Harry, who according to Martin, just wanted to see his friends and family enjoying themselves, according to People.
So, when it came time to take a portrait with the children in his wedding, Prince Harry handled the situation incredibly well, Martin told People. "They wanted to see their family and see the kids and be together," Martin told the magazine. "So, when it was time to take a photo, it was really easy and harmonious and joyful, and Harry was playing with the kids."
You can see just that in the official portrait taken with the wedding party, shared by Kensington Palace on Instagram a few days after the royal wedding. In the photo, the kids have the biggest smiles on their faces and Prince Harry looks beyond happy to be smiling alongside them. Considering how hard it is to get a group photo of anyone (especially kids) looking in the same direction or having smiles on their faces, this official wedding portrait is definitely a testament to Prince Harry's skill with kids — and Martin's words only serve as confirmation to this.
It shouldn't come as a surprise to anyone that Prince Harry is good with kids — especially since Prince Harry is a self-proclaimed kid, according to Hello! Magazine. During an interview with Good Morning America host Robin Roberts, Prince Harry revealed that he absolutely adores children. Prince Harry said, according to ABC News:
I've got a kid inside of me. I want to keep that. I adore kids. I enjoy everything that they bring to the party. They just say what they think.
This understanding of the younger generation has led Prince Harry to become an excellent uncle to his niece and nephews — Prince George, Princess Charlotte, and little Prince Louis. In the same interview, Prince Harry said that he strives to be a "fun uncle," according to ABC News. "You've got to have fun in life," Prince Harry said. "Otherwise, wow, imagine life without fun. You've got to be taken seriously, but I hope that I'm a fun uncle."
In an interview with The Telegraph in 2017 a year later, according to Us Weekly, Prince Harry revealed that he likes to stay in touch with his "childhood side," in order to relate to his friends who have kids. "If that means going to someone's house and sitting there and playing PlayStation and kicking the a— of their son or whatever it is, then I'll try to do that," Prince Harry said, according to Us Weekly. "I've actually had a lot of practice for that."
Prince Harry's boyish charm isn't just part of his appearance — it's part of his personality, too. Based on everything Prince Harry has said about having fun (especially around kids), it's no shock that Prince Harry was playing with the kids at his wedding.