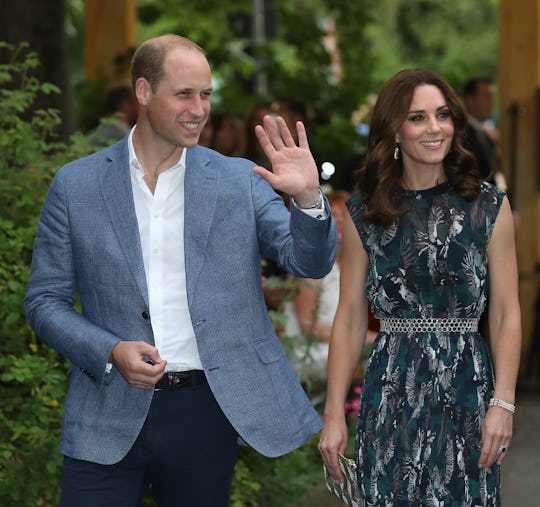 Sean Gallup/Getty Images Entertainment/Getty Images
How Did Prince William Meet Kate Middleton?
There are some kids that dream of meeting a prince, falling in love, and living happily ever after. This will, more than likely, never happen (sorry!), but it did happen for Kate Middleton in the early 2000s. Before she was the Duchess of Cambridge (and wife of England's Prince William), Kate Middleton was just a commoner living in England. So how did Prince William meet Kate Middleton? Their meet-cute is one for the ages.
Before they got married in perhaps the most gorgeous wedding England (or the world) will ever see and before they had two adorable children, Prince William and Middleton were just two students more concerned about their studies than falling in love. While falling in love with a prince seems so romantic, their love story begins like a lot of couple's love stories — they met in college. The couple first met at St. Andrews University in St. Andrews, Scotland in 2001, where they were both living in the same dorm, St. Salvator's Hall, and studying art history. It was there where they became friends.
Middleton said that she "went bright red and scuttled off, feeling very shy," when she met William for the first time. "We just spent some more time together, we had a good giggle, and realized we had the same interests," William said, of their meeting during a televised interview after they announced their engagement.
But 2002 was the year where everything changed and friendship turned into romance. According to ABC News, Middleton was selected to walk in a charity fashion show and happened to catch the eye of William that night, who was sitting in the front row (according to Vanity Fair, William turned to his friend and reportedly whispered "Kate's hot!" as she walked down the runway). At an after party for the fashion show, William made the first move and kissed Middleton. The rest, they say, is history.
Things became serious in 2003, when the then-friends started spending more time together, keeping their relationship a secret. From there they entered an on-again, off-again whirlwind romance of dating and breaking up over the course of eight years. It was during this incredibly long time where the media dubbed Middleton "waity Katie" as the result of the amount time she "waited" for William to "come around," which seems like a pretty sexist and rude rumor. In 2010, William finally popped the question while the two were on vacation in Kenya. "It was a total shock when it came," Middleton said of the engagement. "There's a true romantic in there."
The best thing about the way Prince William and Kate Middleton met and fell in love is that it's so real. There was nothing about it that comes from a fairy tale; they experienced their ups and downs just like any other couple. Two kids and six years of marriage later and the two could not be any more in love. How is that for happily ever after?