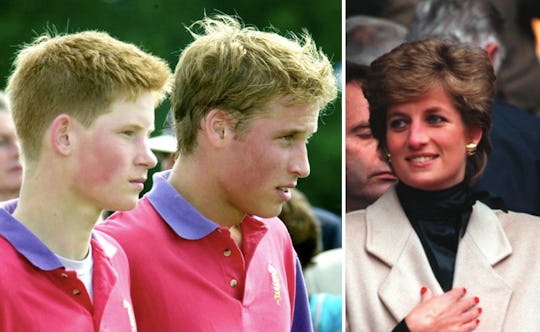 Anthony Harvey/Getty Images Entertainment/Getty Images/ Pascal Rondeau/Getty Images Sport/Getty Images
Princess Diana's Saturday Nights With Prince Harry & Prince William Were So Down-To-Earth
Fathoming that the royal family could retain any sense of normalcy (despite their humility and graciousness) is kind of hard to believe, given their wildly unusual circumstances. (And hey, we live in a world where Kylie Jenner just discovered eating cereal and milk, proving that the lifestyles of the privileged are, indeed, somewhat foreign to us all.) Nevertheless, a new report is sharing that Princess Diana's Saturday nights with Prince Harry and Prince William consisted of... normal people activities, and the memories will not only warm your heart, but remind you why Diana was truly one of the most beloved princesses in history.
In a recent interview with The Mirror, Paul Burrell, Diana's former butler, recalled the relatable way she raised her kids. "The three of them would nip to McDonald's for a Big Mac and fries before coming back to watch 'Blind Date,'" he told The Mirror. "All three of them would squat on this massive, stuffed hippopotamus Diana had in her sitting room. They loved 'Blind Date' and you'd hear them all screaming things like 'Oh don't pick him!'"
In the same interview with The Mirror, he continued: "I remember the Princess came into the kitchen one day and said, 'Cancel lunch for the boys I'm taking them out, we're going to McDonald's... And I said, 'Oh my God your royal highness, I can do that, I can do burgers.' She said, 'No, it's the toy they want.' Yeah, the boys loved McDonald's, and going out [for] pizza and having potato skins — sort of the American foods. There were royal princes but had children's palates."
Of course, over the years, many sweet stories about how the royal was at home with her children have come to light. Though Princess Diana didn't live to see her sons marry or meet their wives, the future Duchesses of Wales and Sussex, she did instill them with a few lessons about love.
For instance, TODAY reported that in a 1995 interview, Diana said the following about what she hopes her sons believe about love:
I went to the school and put it to William, particularly, that if you find someone you love in life, you must hang onto it and look after it. And if you were lucky enough to find someone who loves you, then one must protect it.
Later, Prince William would reflect on the legacy she left, telling Entertainment Tonight: "I never realized quite how much of an impact she had. I applaud her for all her dedication and drive, and I think the infectious enthusiasm and all the energy she had really rubbed off on me."
However, that doesn't ease the blow of losing your mother as a teenager.
In the same interview with Entertainment Tonight, Prince William opened up about how the pain of losing your mother is unimaginable, and that grieving is absolutely a process, as opposed to a one time emotional event.
"Initially, there is a sense of profound shock and disbelief that this could ever happen to you. Real grief often does not hit home until much later. For many it is a grief never entirely lost," he told Entertainment Tonight. "I know that over time it is possible to learn to live with what has happened and, with the passing of years, to retain or rediscover cherished memories."
Retaining and discovering cherished memories he certainly has, whether by his own recollection or from stories those who worked most closely along Diana remember and are ready to share. There's no question that the royal princes have led distinctly unique lives, but it doesn't change the fact that the bond they had with their late mother was incomparable, and the memories they made together are eternal.