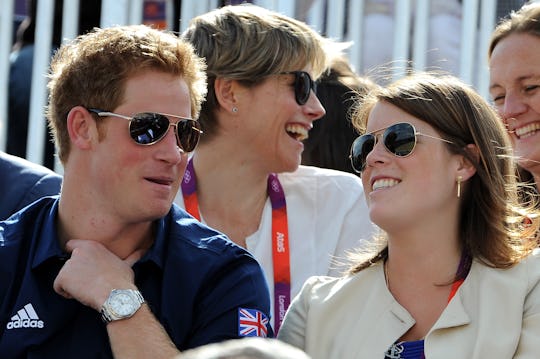 Pascal Le Segretain/Getty Images Sport/Getty Images
How Princess Eugenie's Royal Wedding May Compare To Prince Harry & Meghan Markle's
Doesn't it seem yesterday that you were sitting in your PJs in the middle of the night, live-streaming Prince Harry and Meghan Markle's gorgeous, royal nuptials? Well, that fairy-tale pair are now the Duke and Duchess of Sussex, but as luck would have it, Windsor Castle is hosting another bridal event soon. So how exactly will Princess Eugenie's royal wedding compare to Prince Harry and Meghan Markle's back in May? Well, let's dive into the "I do" details and find out.
First off, Princess Eugenie is the daughter of Andrew, Duke of York and Prince Charles' younger brother, and his ex-wife, Sarah Ferguson, as Town & Country laid out. The princess — whose mom was a commoner before becoming the Duchess of York, according to Town & Country — may not be a first-tier royal, but she is the granddaughter of a queen, after all.
Set to marry boyfriend Jack Brooksbank on Oct. 12 at St. George's Chapel on the grounds of Windsor Castle, according to The Telegraph — the same picturesque place where Prince Harry and Markle put a ring on it in front of celeb pals like Oprah, Serena Williams, and Priyanka Chopra and Nick Jonas, as CafeMom noted — Princess Eugenie is planning a super fabulous event of her own.
Celebs including Amal and George Clooney, who made it to Prince Harry and Markle's day, may also be attendance, according to Marie Claire. What's more, guest list may swell to 850 guests, as The Mirror reported, a couple hundred more than at Prince Harry and Duchess Meghan's ceremony.
And while Brooksbank has worked in jobs like waiter and wine merchant, he's actually descended from a line of Baronets, according to The Telegraph. (A baronet is a minor sort of Baron, according to Town & Country, which adds that Brooksbank is a brand ambassador to Clooney's tequila company, hence the celeb connection for the wedding. Ellie Goulding, James Blunt, Elton John, and Victoria and David Beckham may also be on the guest list, according to People. )
Princess Eugenie and her spouse will also get the "official" royal treatment, with a carriage ride around the town of Windsor, although it will be a shorter route than at the last royal wedding, according to Town & Country. But that may be where Princess Eugenie's taste departs from Prince Harry and Duchess Meghan's more buttoned-down style.
Apparently, the princess is planning a massive "carnival"-themed after-party, according to Harper's Bazaar. In fact, the afterparty may be so epic that it will be a full day later, the magazine reported, including rides, cocktails, food stalls and a "festival vibe." (Wow, now I'm really intrigued.) The event will apparently be thrown by the same party-planning company responsible for the Beckhams' posh 1999 wedding ceremony, the publication added.
It seems safe to assume that Princess Eugenie's lookalike sister, Beatrice, will be a bridesmaid, as People surmised. The Telegraph also reported that the big day may be free of any plastic items, in line with the princess' interest in green products and recycling. St. George's Chapel also hosted he union of Prince Charles and Camilla in 2005, and Prince Harry and Princess Eugenie's cousin Peter Phillip's wedding to Autumn Kelly in 2008, according to People.
And while her parents are divorced, as noted by Good Housekeeping, Princess Eugenie posts lots of Instagram photos of her parents together and separate, and the family seems close. So royal fans will have to stay tuned for who and how it is decided as far as the royal protocol for walking her up the aisle. But noticing how very modern this princess seems to be, it wouldn't surprise me if both parents do the honors. I guess the world will just have to see next month!
I can hardly wait for Princess Eugenie's big day, and I know there are lots of other royal nerds who will be up late to see what parts of the big day we can catch onscreen.