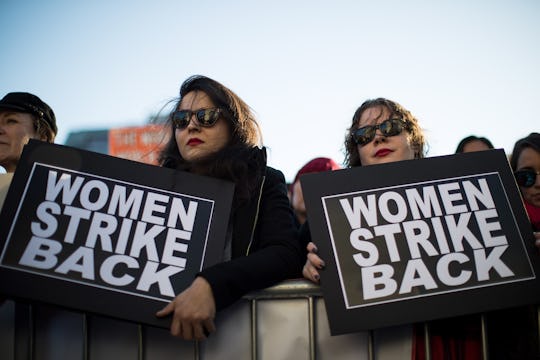 Drew Angerer/Getty Images News/Getty Images
How Restricting Title X Funds Affects Mothers
Vice President Mike Pence just cast a tie-breaking vote in the Senate to allow states to block Title X family planning funds from health providers that perform abortions. And while that could be potentially devastating for millions of women who rely on family planning clinics such as Planned Parenthood to prevent pregnancy, how will this impact women who are already pregnant? Here's how restricting Title X funds could affect mothers and pregnant women.
The Obama administration prevented states from denying federal Title X family planning funds to Planned Parenthood and other clinics that perform abortions. The move to allow states to block clinics that perform abortions from receiving Title X funds is an attempt to prevent abortions. But it's a move that will likely have little impact on the number of abortions performed, because for more than 40 years, federal funding has been blocked from being used for abortion services thanks to the Hyde Amendment. For Medicaid, there are exceptions for rape, incest, and if the life of the mother is at risk. Those same exceptions, though, don't apply to Title X funding.
But Title X provides 4.6 million people each year with family planning services and women's health care.
The move to allow states to block funding could spell trouble for millions of women who rely on clinics such as Planned Parenthood, which receives about one-quarter of its funding from Title X. While most associate Planned Parenthood with providing services to prevent pregnancy (34 percent of Planned Parenthood's services are contraceptive services), it is also an important resource for pregnant women and mothers.
In 2013, Planned Parenthood helped more than 18,000 women receive prenatal services, which are essential for a healthy pregnancy. More than one million women were tested for pregnancy there as well. And in general, Title X has funded more than 6 million STD tests.
And while it may sound crazy, some women were only able to become mothers thanks to Planned Parenthood. Courtney Everett spoke with The Chicago Sun about her endometriosis, which can cause infertility. She was unable to afford hormonal birth control that could manage her endometriosis: until she went to Planned Parenthood. "I had two beautiful babies, and I really credit Planned Parenthood," she told the newspaper.
Title X also provides services that important for all women, including mothers. Title X helped fund over 1 million pap smears and 1.6 million breast exams. According to Planned Parenthood, Title X helps prevent 1 million unintended pregnancies each year because the funding makes birth control more affordable for women everywhere, especially low-income women.
Washington Sen. Patty Murphy said on the Senate floor that Republicans are pushing really hard to take away funding from women's health services, and Pence having to come in to break the tie makes that obvious. She said:
It's safe to bet that Republicans are going to try to attach riders to take away Planned Parenthood funding in the spending bill for the rest of the year.
Republican Sen. Susan Collins from Maine told Politico that she believes federal family planning funds should not be subjected to state restrictions. "It's important to recognize that there is already a bar against using federal funds for abortion and that bar stays in effect," she said. "That's a prohibition that I personally support, but I'm a strong supporter of family planning funds."