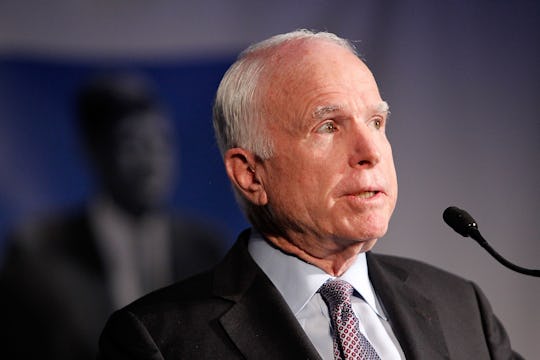 Paul Morigi/Getty Images Entertainment/Getty Images
How Serious Is John McCain's Cancer?
Last week, Arizona Sen. John McCain took an unexpected break from Washington to recover from a surgery to remove a blood clot from above his left eye. He was said to have been making good progress in the recovery, but then the onetime Republican presidential candidate announced Wednesday that he had been diagnosed with brain cancer. It's jarring news for a fractured Senate and the country, and the senator's colleagues and constituents alike surely want to know how serious John McCain's cancer is.
CNN reported Wednesday evening that lab results from the surgery McCain, 80, underwent to removed the blood clot Friday confirmed that he has a primary glioblastoma, which is a type of tumor, in his brain. Now, the senator is recovering at home from the initial surgery. His family and the Mayo Clinic Hospital in Phoenix, where is has been receiving treatment, shared in a statement that a combination of radiation and chemotherapy could be his next treatment option, according to CBS News. There was good news in the statement, too: "The Senator's doctors say he is recovering from his surgery 'amazingly well' and his underlying health is excellent," it reads.
McCain's diagnosis, of course, triggered a massive outpouring of support from other current and former politicians.
Many of reactions to the news of McCain's cancer from people who know and have worked with him refer to the former prisoner of war as being both "tough" and a "fighter." And those are two traits that can only serve the senator well as he takes on this formidable health challenge. Of course, every person and every glioblastoma is different, but the Mayo Clinic characterizes this particular type of tumor as "aggressive." And when it comes to a glioblastoma such as the one McCain has, the tumor "can be very difficult to treat and a cure is often not possible."
Doctors who are treating McCain told CNN's Susan Scutti that the senator did not display any neurological problems either before or after his surgery Friday. However, during the routine physical exam that led to the discovery of the clot — and ultimately the glioblastoma — McCain said that he had been feeling more tired and less sharp than usual.
In the wake of the public revelation of McCain's illness, his daughter, Meghan McCain, released a touching statement on Twitter dedicated to him. In addition to expressing the family's "anxiety about what comes next" and her thanks for having the father she does, Meghan's tribute to him reads, in part:
It won't surprise you to learn that in all this the one of us who is most confident and calm is my father. He is the toughest person I know. The cruelest enemy could not break him. The aggressions of political life could not bend him. So he is meeting this challenge as he has every other. Cancer may afflict him in many ways: but it will not make him surrender. Nothing ever has.
McCain's future is uncertain right now given his recent diagnosis, but one thing's for sure: He has a long lifetime's worth of supporters wishing all the best for him.