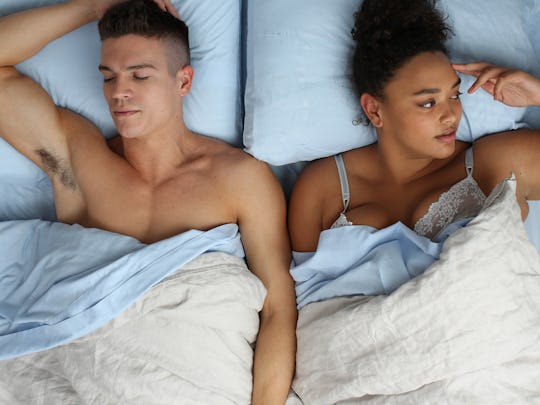 Han Burton/Romper
How Sex Is Really Changing For Women Post-Baby
It's no secret that sex after childbirth is a whole different ball game, and when I started researching this story, my goal was to simply report on how sex changes after childbirth. But when I began having conversations with my fellow millennial moms, they cited changes that go beyond a simple switch in preferred position. In fact, the major takeaway was that most women seem to not be having sex for months — or years, sometimes — after having their child.
To be honest, this wasn't surprising for me to learn. Launching a human being into this world is a life-changing event that not only alters our bodies, but can also affect how we feel about our partner and our relationship. Realizing that many women are experiencing these same issues after giving birth, I tapped relationship and intimacy expert Alexandra Stockwell, M.D. for some helpful advice.
The good news is that rebuilding intimacy and sexual wellness is doable, and according to Stockwell, it's important for new moms to remember first and foremost that the changes with our bodies, hormones, and emotions are temporary. "There is a new normal which can be just as satisfying as pre-birth sex," she says. Read on to meet some millennial moms whose sex lives changed post-baby, and learn Stockwell's expert tips for getting back in the saddle (or bed — whatever you prefer).