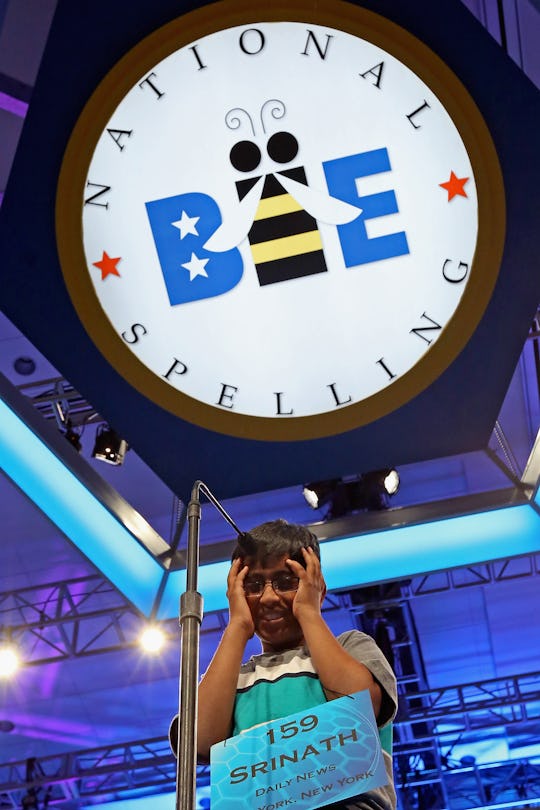 Chip Somodevilla/Getty Images News/Getty Images
How Should My Kid Study For A Spelling Bee? The Scripps National Spelling Bee Is Intense
When I was in third grade, I struggled with spelling. I remember spending many afternoons in a '70s-style kitchen. I would stare at our yellow linoleum floors while my mother quizzed me on words, and my mother would ask me how to spell things — words like impossible or onomatopoeia — while she breaded chicken. And while all of this quizzing paid off — today I pride myself on my spelling abilities and my reliance on my own mind and not a machine, website, or app — I am still lightyears behind spelling bee champions. But how does a child study for a spelling bee? And how can I help my own daughter study for a spelling bee (when she gets older, and if words are her "thing")?
Sarah W. Caron, a writer for SheKnows, wrote that she firmly believes good spelling skills starts with good reading skills. In an article entitled "Teach Your Kids To Spell Like National Spelling Bee Champs," Caron encouraged parents to read to their children, frequently and often, and to practice both every time they have a chance (at the grocery store, in the library, driving down the highway reading billboards). Caron also encouraged parents to use flashcards and quizzing — yup, good ol' fashion quizzing — to help with rote memorization. But what types of words should your child be learning, and once your kid "gets it," how can you take them from an "A" student to being a spelling bee champ?
According to Scripps, the company behind the National Spelling Bee, parents should first find out what the "100 study words" are for their child and their child's grade level. This can be done by asking the school for a copy of the list, as study words are accessible only by teachers and/or spelling bee coordinators on a password-protected portion of spellingbee.com. (Parents should also request a list of the study words for all other grade levels, i.e. grades one through eight, and download the list on Spell It!, which is on on Merriam Webster.com.) Once parents and their children have the lists, they should study using whatever method(s) works best, i.e. those Caron mentioned, games like Word Central, or something else entirely, and then kids can start making the rounds in local, statewide, or regional competitions.
Make no mistake, the spelling bee world is quite competitive and not for the faint of heart, but these tips are sure to improve your child's spelling abilities — whether on a stage or in the classroom.