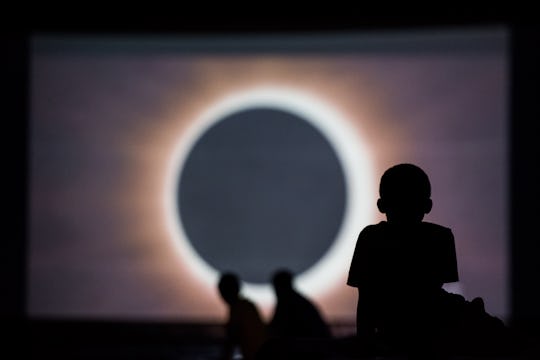 Sean Rayford/Getty Images News/Getty Images
Here's How The Eclipse Will Affect You, According To The Zodiac
It's true: Your zodiac sign can offer insight into plenty of random moments in your everyday life, from how you can best tackle your toddler's worst tantrums to identifying your career goals. Romper partnered with astrologer Maressa Brown to share how you can make what's going on up in the sky work for you and score even more bliss and balance in your day-to-day. Here's your weekly horoscope for the week of August 21-27.
The week kicks off with the super-hyped Total Solar Eclipse. If you have kids who are big enough, you've probably been trying to figure out the best way for them to (safely!) view the major celestial event. But there's a hell of lot to say about how the eclipse affects us all astrologically, as well. The eclipse is also a new moon in Leo, a sign associated with confidence, royalty, charisma, and leadership. The power of any eclipse is so great that even though its energy may feel like its reached a fever pitch today, you may feel its effect for six months before and after. The new moon is also forming a dynamic angle to change-maker Uranus, so expect almost effortless, but really freakin' out-of-the-blue change to pop up.
Plus, on Tuesday, the sun shifts into detail-oriented Virgo for a month, making it easier to zero in on lists and schedules, all the moving parts of your daily routine, for back-to-school season. And on Friday, Saturn (aka the "taskmaster" planet that teaches us hard lessons) ends its retrograde, making it easier to push forward with big projects or commitments. That same day, the planet of love Venus moves from sentimental Cancer into dramatically romantic Leo, so you or bae may start feeling a bit more demonstrative in love—and in bed!
Read more below to find out what this week's forecast means for your sign.