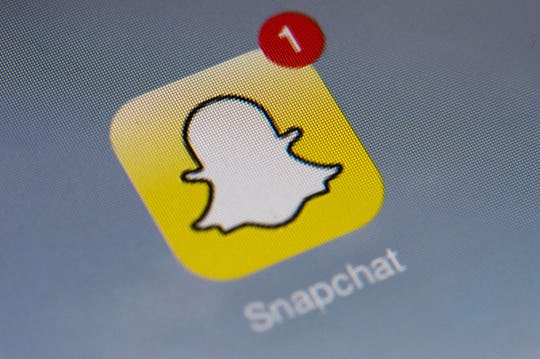 LIONEL BONAVENTURE/AFP/Getty Images
How The New Snapchat Algorithm Affects Your Feed, Which Won't Include Just Your Friends
According to Digiday, Snapchat is joining the ranks of social media platforms curated by an algorithm. Currently, Snapchat users see messages from accounts they follow in chronological order. But a new algorithm change will put the order that users see content in Snapchat's hands. Here's how the Snapchat algorithm affects your feed.
The short answer is that there are still a lot of unknowns, which is what is making users so nervous. Like Snapchat, Instagram has solid plans of moving to an algorithm-based feed, and there has been a lot of pushback about that from their user base. One possible reason for the change (for both platforms) is the potential to monetize the feed, pushing brands and advertisers' content to the top of the stack, leaving individual users in the dust. Already, Snapchat's "continuous-play" update in March has been a boon for brands. The change in interface made it so that, when a user opens one piece of content, he or she can continue viewing a stream of content (including advertisements and branded content) without having to exit out or open another message.
It's no surprise that brands want a piece of Snapchat. The platform is known for its growing, very young, and very active audience. It has more than 100 million users per day. Though brands can open their own private accounts to get into the Snapchat world, they've experimented with other, quicker methods. Companies like Delmondo have popped up with the select purpose of connecting brands and users with huge followings. They essentially broker partnerships between large companies looking to reach a certain audience and individual Snapchatters who have access to that audience.
This change to an algorithm might make it easier for brands and publishers to push their own content themselves. As an example, think of the Facebook News Feed. It's run by an algorithm (a mysterious one, at that), that allows individuals to post content for free, but charges companies for overt advertisements. Though Snapchat has been wary of giving brands a place on its platform, according to an inside source who spoke with Digiday, it's considering letting brands pay for promoted content. The source said:
It's going to be the same model Facebook has: It's free for everybody to share content, but an algorithm will penalize some people and boost others. That's why you don't want to be beholden to any one of these platforms or you're suddenly stuck when the game changes.
According to Fortune, Snapchat has not announced when it might implement an algorithm, but, like Instagram and Twitter, the app is adamant that it will enhance the experience for users.