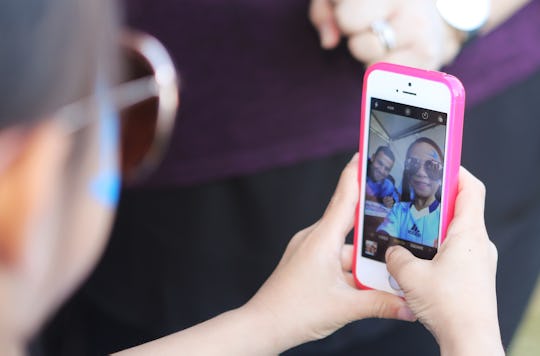 Daniel Munoz/Getty Images Sport/Getty Images
Yes, You Can Add Face Filters To Boomerang
If you've used Instagram in the last few months, you're likely aware of the incredible Boomerang feature. The camera function allows users to create their own gifs; As the app puts it, when you see something moving that you want to capture, you basically open the Boomerang function from Instagram app (or through its own app), and find the camera button. Then, "tap it once and Boomerang does the rest: shoots a burst of 10 photos and turns them into a delightful mini video." But with Instagram unleashing another new update today — face filters — maybe you're wondering how to add face filters to Boomerang too, because your most creative Instagram creations deserve the app's latest update as well.
According to a statement from the app's creators, in order to try out the "faces," simply "tap a filter to try it on, and keep an eye out for ones that work with a friend," and you'll be on your way.
"Take a photo or video using the front or back-facing camera," the company instructed in its press release. "They even work with Boomerang, so you can easily add an unexpected twist to what you share! When you're done recording, you can send it to your best friends through Instagram Direct or add it to your story." So, yes, it really is that easy to take your Instagram story to the next level.
For now, the face filters aren't available in the typical Boomerang app to post directly to your Instagram page, but you can still use them in the app's story platform. However, if you're feeling particularly crafty, you can always create a Boomerang story using face filters, and then save it. Then, you can upload your Boomerang creation to your Instagram page as a single post, face filters and all.
And face filters aren't all that Instagram is changing today. The photo-sharing app will also now allow users to rewind videos and apply hashtags to photos in their stories, so that when it's clicked on, it will behave like a normal hashtag in a normal post.
And while you might be thinking that Instagram is starting to look eerily similar to Snapchat, that's not how Instagram sees it. "We've heard from our community that they want more creative ways to share everyday moments and engage with friends," an Instagram spokesperson said. "With face filters, they have more tools than ever at their fingertips, and all in one place."
So, get jazzy with it! Apply a koala face to a Boomerang or an ice crown to that hot selfie. Instagram is about getting creative, and this new update lets you do just that.