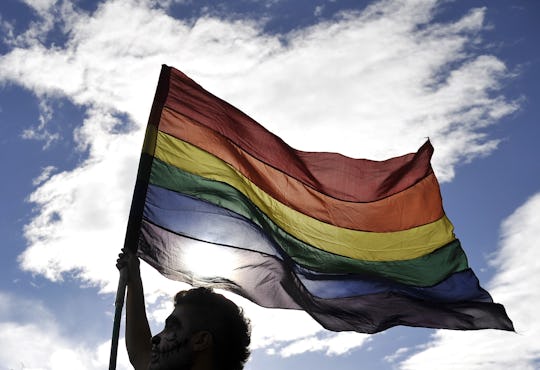 GUILLERMO LEGARIA/AFP/Getty Images
How To Add The Pride Flag Filter On Your Profile Picture To Show Support For Orlando
As reports are continuing to roll in after the Orlando Pulse shootings early Sunday morning, it is important to remember that no matter where in the world you are, you can help support the victims and their families by standing along side the LGBT community through social media. One way to do that is to add the pride flag filter to your profile picture, to show support of the at least 50 people that were killed, and the other's injured in the attack that is now being considered "an act of terrorism."
(Update: The FBI has updated the death toll to 49 victims. The shooter was also killed.)
There are many things people can do to support the victims of Orlando's shooting, but one way to do it — and possibly the easiest way to show solidarity — is by adding the pride flag over your Facebook profile picture. Its easy, but it sends a strong message that you stand with those that were attacked during the shooting in Orlando. However small it seems, standing in unity at this time is crucial to show the world.
A website called Rainbow Filter has an incredibly easy tool that allows you to change your profile photo on Facebook (and other social media platforms) to show support after the shooting in Orlando. By going to Rainbow Filter's website, you can follow the instructions to have the colors of the pride flag included in your profile photo. The steps are incredibly easy.
1. Go To Rainbow Filter & Click "Facebook Login"
You can also change your Twitter profile photo, as well, or just upload a photo (by choosing Rainbow Filter) and save that photo for all your social media accounts.
2. Allow The Website To Access Your Facebook Profile
In the next page, you can click "Not Now" when the app asks for permission to post to your account.
3. Rainbow Filter Will Generate An Updated Profile Photo
You can either "Set Faceboook Picture" or download the image to use across all of your social media platforms.