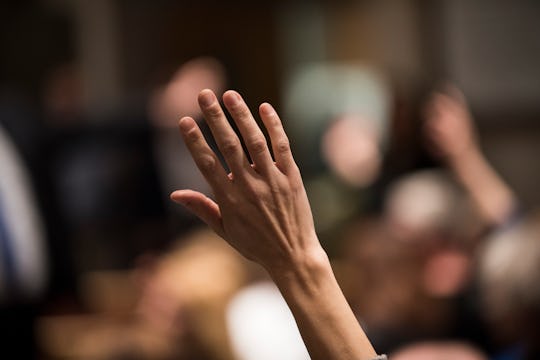 Stephen Maturen/Getty Images News/Getty Images
How To Attend Your Local Town Hall Meeting
Now that there's a new president in town and a bunch of new faces running the show in Washington D.C., Americans have been bracing themselves for the next wave of changes that the Trump Administration has in store. President Donald Trump and the Republican Party have only touched the surface of what they plan to undo from the previous administration's agenda under President Barack Obama. Whether it be healthcare reform, federal protections for transgender students, or immigration and refugee policies, there's certainly a lot to talk about, and there are ways to make your voice heard. The best way to have your say about what is happening on the Hill is to reach your members of Congress at their place of work, so here's how to attend your local town hall meeting.
First things first: According to CNN, to get started you'll need to find your members of Congress, either for the House or for the Senate. Once you find yours, you can then head over to the members' websites for more information. These government websites, however, can be a little tricky to navigate and you'll essentially be looking for a page where you can find the date, time, and location of your Congress member's scheduled events. But they're not always there or easy to find.
Another option is to use an outside website that makes this investigation a bit simpler. A quick way to find your local representative is to use Call To Action's services, which gives a direct phone number to call after you've entered your address. From there, you can ask whoever picks up the line when and where the next town hall meeting is scheduled.
Legitstorm is another online service you can use to help with your search. According to the site, it keeps track of thousands of sources of news about town halls by scouring through social media posts, press releases, and official websites. Browse through the site and you can find a comprehensive list of all upcoming Town Hall events.
Additionally, as CNN pointed out, a volunteer-based initiative called Townhall Project is keeping a public spreadsheet of all town hall events. With a quick search, you should be able to find when and where your next local town hall meeting will be held. For example, here's what it is happening on Thursday, Feb, 23:
Finding the meeting is the biggest hurdle to overcome, so once you've made it there and you want to ask a question, make sure you have it prepared beforehand. Depending on the size of the crowd and the time allotted for the meeting, you may have a chance to speak. And considering the tense political climate at the moment, it'd be a good idea to arrive early to try and grab a seat in the front.
According to NPR, "angry constituents have confronted legislators at town halls across the country" over the last few weeks. And by the looks of what has been shared on social media in recent days, it doesn't seem like these tensions will be dying down anytime soon.
In addition to protesting and staying up-to-date on accurate, fact-checked news, attending your local town hall meeting is one more way to make your voice heard because it's the best way to connect with those who have the power to influence the choices made over in the capital.