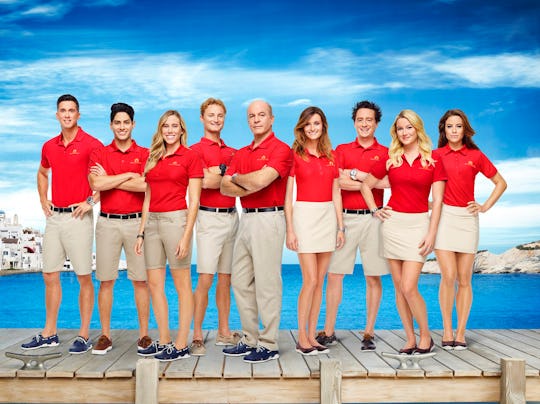 Tommy Garcia/Bravo
How To Book The 'Below Deck Mediterranean' Yacht, Because Everyone Needs A Luxury Vacation
If you aren't yet familiar with Below Deck Mediterranean or its predecessor, Below Deck, then you probably have close to no idea how glamorous yacht life is. But if you have been a fan of the Bravo series, and caught the Below Deck Mediterranean series premiere, then you're probably wondering, can you book a trip on Below Deck Mediterranean? If you've got a couple hundred thousand dollars sitting around, then yes, you can absolutely book a trip on the Ionian Princess of Below Deck Mediterranean.
Much like the series before it, Below Deck Mediterranean will feature the sort of drama fans have come to love and expect from not only Bravo but Below Deck itself. Some of the only differences this time around are the location, which will find us enjoying the insane sights of Greece and since it's in European waters, we can also expect to have the sort of cast and crew made up of all sorts of cultures, ethnicities, and accents. A melting pot at the sea, if you will.
The trailer for the first season of the new series features all sorts of dramatics already, from the crew getting in fights (surprising) to passenger/steward relations (also super surprising. Only, you know, not). Naturally, though, the experience on Below Deck Mediterranean looks like a nonstop party and who doesn't want to be a part of that? So, how do you charter the yacht from Below Deck and what does it even entail? Should you find yourself wanting to be in thick of all of that drama, then here we go.
How Much Does It Cost?
As to be expected, in order to charter the Ionian Princess for a week at a time, it costs a pretty penny. If you are looking to have it for a week in the winter, it's going to run you around $140,087, and should you prefer to take a trip for a week in the summer, costs start at $163,501. For one week.
How Can You Book The Yacht?
Believe it or not, in order to rent a yacht, there is a lot more to it than calling the owner and giving them your credit card info. A vacation rental in Myrtle Beach this is not. Instead, you're looking at speaking to a yacht broker in order to have a middle man of sorts to speak to the owner and crew of the yacht you're looking to charter. Think of them as a travel agent, but kind of on a higher level.
How To Ensure A Spot On The Actual Show
What's that? You want to take a 3-4 day trip on a luxury yacht around the Mediterranean Sea and also appear on a hit Bravo reality show? Yeah, I know. But you don't need to be a millionaire to get to take a trip on the Ionian Princess in this instance. Bravo actually casts for guests specifically, so it has nothing to do with paying to charter the yacht yourself. For a chance to be on Below Deck Mediterranean and get a spot on the Ionian Princess, all you need to do is send your name, phone number, location, picture, and some reasons why you want to go on the yacht to BelowDeckMed@gmail.com. So yeah, you have to somehow come up with why you want to take an awesome luxury yacht trip.