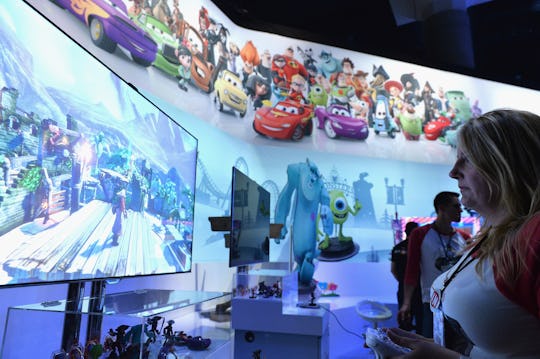 Alberto E. Rodriguez/Getty Images News/Getty Images
How To Break The Disney Infinity News To Your Kids & Avoid A Total Meltdown
Things are changing over at the house of mouse. On Tuesday, Disney announced that it would be backing out of the gaming business meaning that Disney Infinity, part of its "toys-to-life" business will be getting the boot. So how does one break this Disney Infinity news to your kids without causing a revolt or weeks of mourning over all the new toys they'll never get to collect?
It's not totally clear why Disney is making the move, but the company did just report a $147 million loss in its earnings report on Tuesday, much of it stemming from the gaming sector.
That's sort of heartbreaking because Disney had just announced that it was going to expand its Infinity add-on packs in 2016. CEO Bob Iger said in the earnings call this week that Infinity was a "good product," according to Mashable. But in the end, it just came down to economics. "I give the developer a lot of credit for the product that they made," he said. "But we knew going in that there would be a lot of risk with this product, and the fact that we did so well initially gave us the confidence to continue with it. The the risks that we saw at the beginning when we started this caught up with us."
Your kids might now understand that this also means some 300 developers will be out of work. But who can expect empathy at a time like this? Here's a 5 step method to breaking the bad news to your little ones (think of it like breaking up with someone):
Give It To Them Straight
You have to just tell them that there will be no more Infinity. It's not them, it's Disney. Disney just needs some time alone to figure things out in its own life.
You'll Always Have The Good Times
Just like with a breakup, there will be some bittersweet moments in the coming weeks for your family. Mashable confirmed that Disney still plans to sell add-on sets in June for Alice Through The Looking Glass and for Finding Dory. Attempt to explain what nostalgia means to your 7-year-old, then get your purchasing thumbs ready — finding the play sets could be Black Friday brutal.
Distract, Distract, Distract
Finding Dory is coming. And in summer! Summer's fun right? Promise them move tickets and unlimited ice cream truck money come sunnier days. Then hope they don't remember by the time the school year's out.
Cookies
Because anything helps, right? Cookies always help.
One Last Time
Maybe they get unlimited time to play, just like a broken heart needs time to curl up into a ball for a few days and get it out.
Unfortunately, this probably mean's you're definitely going to have to take them to Disney World. Like, soon. Start packing now.