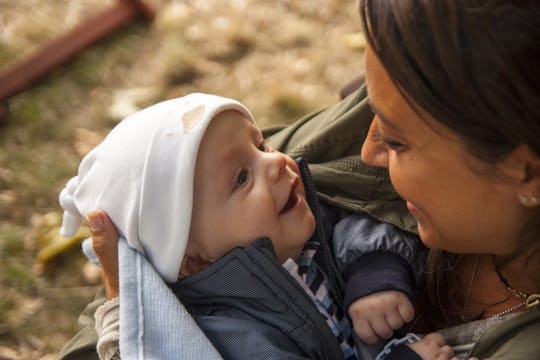 nikla/Fotolia
How To Breastfeed When You're Freezing & Don't Want To Take Off Another Layer
This winter will be the first one in the past three years that I'm not breastfeeding. And though I'm all for cozy layers and snuggling up close with my babes, I'm not going to miss trying to figure out how to breastfeed when you're freezing and don't want to take off another layer. With holiday shopping, travel plans to to see friends and family, and the general air of business that surrounds this season, chances are you'll be nursing your baby in a handful of unfamiliar places — some of which may be a bit colder than you'd like.
However, breastfeeding in cold weather isn't impossible if you know how to layer up. You shouldn't have to sacrifice your comfort and body temperature to nurse, so being strategic about what you wear will save you from having to take off your warmest layers. For example, sweater dresses are notoriously hard to breastfeed in (discreetly at least.) On the other hand, cardigans, open sweaters, and loose layers can be your best, coziest friends that you won't have to take off to breastfeed.
Coming from someone who has had my fair share of chilly nursing sessions, I know the power of a carefully planned outfit on days that make you want to stay in and cozy up by the fire.