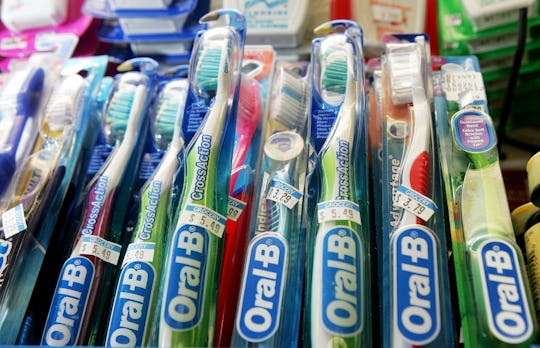 Justin Sullivan/Getty Images News/Getty Images
How To Buy A Toothbrush For A Baby
When my older sister gave birth to my niece, she told me it was one of the most beautiful moments of her life. Though she was excited to bring her home from the hospital and couldn't wait to become a mom, she expressed to me that she was really nervous, too. As the months went on, her nervousness decreased, but one thing she said that still made her a little scared out was brushing my niece's teeth. I honestly think that's why she did so much research on how to buy a toothbrush for a baby when it was time to do so.
And her worries were warranted, as the preparation for brushing your baby's teeth can be a little nerve wracking. Though Baby Center recommended cleaning your baby's teeth twice a day when you see a tooth coming in, the site suggested doing it with a piece of clean gauze. However, the site revealed that if you would like to use a toothbrush instead, you should be choosing a brush with soft nylon bristles and a small head. By opting to use a toothbrush over your finger wrapped in gauze, it will be easier for you to reach the new teeth coming in and comfortably clean the teeth that are already showing.
Whether you choose to use your finger or a baby-sized toothbrush, What To Expect noted that you should be using no more than a rice-grain size of fluoride toothpaste to help get their chompers shining. Likewise, the site noted that the bristles on the toothbrush should have no more than three rows. If you're having trouble choosing the right brush for your baby's teeth, consulting with a pediatric dentist to find the best one would be best.
Still a little scared to brush your baby's teeth? According to Baby Center sitting your baby on your lap facing away from you will help you reach their teeth more easily. Additionally, you should be brushing with small, circular movements, placing more emphasis on the area where the teeth and gums meet.
So now that you're a little more informed on how to choose the right brush for your baby and what method works for brushing their teeth, you can breathe easy knowing that it's not as scary as it may have seemed before.