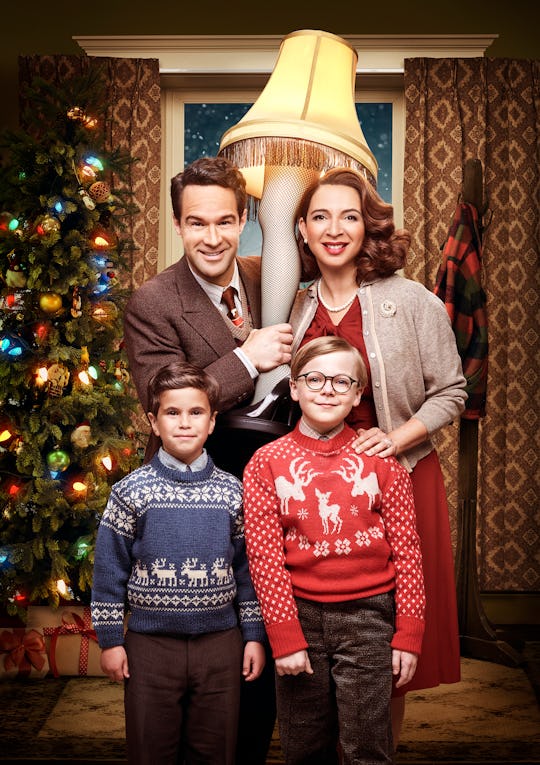 Fox
Here's How To Buy The Soundtrack For FOX's 'A Christmas Story Live!'
Fox's live musical of A Christmas Story might be the holiday special to end all holiday specials. Which means that if you're anything like me, you will want to savor all this holiday cheer long after it's over. So here is how to buy Fox's A Christmas Story: Live! soundtrack, so you can feel like it's the happiest time of the year all year round. Honestly, is there anything happier on this earth than combining a classic Christmas movie with musical theater broadcast all across the country for everyone to enjoy? I think not.
Now for some bad news. Right now, there is no way to purchase Fox's soundtrack for the musical. However, logic would indicate that this specific soundtrack will be made available for purchase very soon.
A Christmas Story is one of those classic movies that occasionally feels like everyone in the world has seen. Everyone recognizes the film's most memorable scenes, like the boy with his tongue frozen to the flagpole, or the inimitable leg lamp (which is available for purchase on Amazon, in case you were interested). The movie's most famous lines are incredibly quotable. Everyone knows what you're talking about when you warn someone, "You'll shoot your eye out, kid!" So, naturally, in 2012 the 1983 movie was adapted into a musical, which premiered on Broadway. It became wildly popular and was nominated for three Tony awards in 2013. But if you haven't been able to make it to the theater lately, no worries. Fox is putting on its own live performance on Sunday, Dec. 17.
But this is hardly the first time Fox or other major networks have put on a live performance of a classic musical. NBC was the first to start the trend with their rendition of A Sound of Music: Live! Other live shows included Hairspray and Grease. Accompanying these one-of-a-kind specials were the soundtracks to these specific editions of the show. So if you're obsessed with Grease you can purchase not only the soundtrack featuring the talents of Olivia Newton-John from the original, but likewise the Grease: Live! soundtrack with Julianne Hough.
As of this moment, you can buy the soundtrack to the original musical version for A Christmas Story — The Musical through the usual channels, including Amazon or iTunes, as well as free streaming through Spotify. However the soundtrack for the live version does not yet exist on these platforms. But if A Christmas Story: Live! is anything like its predecessors, the soundtrack will soon be available via these platforms as well. Network live shows like Grease and Hairspray have their soundtracks available for sale on Amazon, iTunes, and Spotify already, so all signs point to this latest project following a similiar format.
You can also purchase the soundtrack to the original film, A Christmas Story: Music from the Motion Picture on Amazon and iTunes (you know, in case you just cannot get enough of little Ralphie and his hilariously out of touch parents).
You may still want to get the live version of the show, however, as two new songs have been specifically written for this performance, according to Deadline. As reported by the outlet, executive producer Marc Platt is extremely excited about this particular show. "A Christmas gift — that's what it is, a gift to the world," he remarked.
The show will star celebrity heavyweights, including Maya Rudolph, Matthew Broderick, and Jane Krakowski, which all but guarantees that it will be the second best Christmas special to air this season. I'm sorry — but the claymation classic Rudolph the Red-Nosed Reindeer is always the best Christmas special. Don't argue with me. In any case, I'm so excited to watch the *fudge* out of this.
Check out Romper's new video series, Romper's Doula Diaries:
Watch full episodes of Romper's Doula Diaries on Facebook Watch.