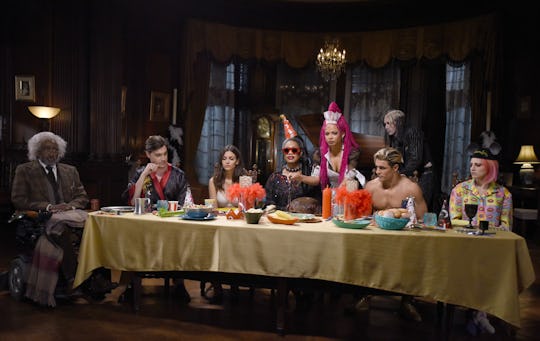 John Medland/FOX
How To Buy FOX's 'Rocky Horror' Soundtrack So You Can Do The Time Warp Again & Again
On Thursday night, FOX is bringing back the popular cult hit film, The Rocky Horror Picture Show, which originally released in theaters back in 1975. The film continues to show in theaters despite how long ago it came out and fans still love to sing the popular songs from the soundtrack. Well, with the new remake comes new takes on these old classics and once you watch the production on FOX you'll want to listen to them again and again. Thankfully, it's easy to buy The Rocky Horror Picture soundtrack.
The soundtrack will be available for purchase on Amazon and iTunes on Friday, Oct. 21, a day after The Rocky Horror Picture Show airs on FOX, but you can pre-order the album now. With the pre-order, you'll automatically get five of the songs, including popular classics like "Time Warp," "Sweet Transvestite," and "Science Fiction - Double Feature." The soundtrack is sure to be a hit since it features the vocal stylings of Adam Lambert, Laverne Cox, Christina Milian, and Victoria Justice, as well as newcomer Ryan McCartan, who plays the role of Brad Majors. If you can't wait to get your hands on these songs you can always listen to the original soundtrack that features Susan Sarandon as Janet Weiss.
The original soundtrack is on iTunes as well as Spotify, but you can also watch clips of the original film on YouTube. There have been various remakes of the film over the years since it was first released. There was a musical in London and FOX's hit musical drama, Glee, also did their own rendition of the popular songs with Lea Michele and Cory Monteith filling the roles of Janet and Brad.
It's clear The Rocky Horror Picture Show will never go out of style, but will this new remake live up to expectations? There's only one way to find out. Make sure to to tune into FOX on Oct. 20 at 8 p.m. EST to see The Rocky Horror Picture Show: Let's Do The Time Warp Again and see how it compares to the original. Who knows? It may even become your next new obsession.