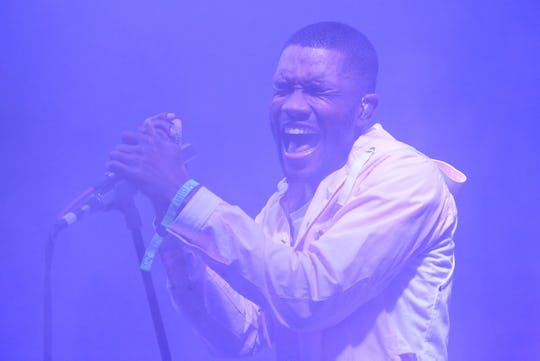 Jason Merritt/Getty Images Entertainment/Getty Images
How To Buy Frank Ocean's New Album, Because It's A Must Listen
Frank Ocean fans no longer have to count down the days until Frank Ocean releases new music — because that day is finally here. (Rejoice!) On Saturday night, Ocean released his long awaited sophomore album, Blonde — an album that fans have been waiting to purchase for four years now. Luckily, figuring out how to actually buy Frank Ocean's new album, which is a relief given how long fans have waited.
At the beginning of August, following a number of delays spanning several years, Frank Ocean put up a mysterious video stream on his website, which featured someone sawing wood, and announced that the album was going to be released later in that week. Fans waited for the date patiently but it never arrived — until August 20 when Blonde (which was rumored to originally have been titled Boys Don't Cry) finally made its debut.
For those who have been waiting years or who have just now caught onto Frank Ocean, you can easily find the musician's new album in one simple place — Apple Music. According to Billboard, Blonde is an Apple Music exclusive and is available for purchase only on iTunes. It's also available to stream through Apple Music's streaming service.
But anyone who wants to purchase any of the 17 songs off of Blonde will have to download the whole album to do so. Currently, iTunes is only allowing users to purchase the whole album to access the songs, instead of accessing the songs individually. But for 17 songs, the album's price of $9.99 is a fair bargain.
If people are dying to listen to singular songs off of Blonde they can do so by subscribing to Apple Music for $9.99 a month — or signing up for a free three month trial. However, according to The Independent, Blonde will reportedly be Apple Music exclusive for the next two weeks — then the album will start appearing on other streaming services, like Spotify.
Ocean took to his Tumblr after the album's release to thank his fans and even laugh about the delays, writing:
I had the time of my life making all of this. Thank you all. Especially those of you who never let me forget I had to finish. Which is basically every one of ya'll. Haha. Love you.
Frank Ocean fans and Twitter users alike responded to the album's debut in kind:
So go ahead: Buy the album, listen to it, and enjoy, because, you know... who knows how long it will take for Frank Ocean to release his third album.