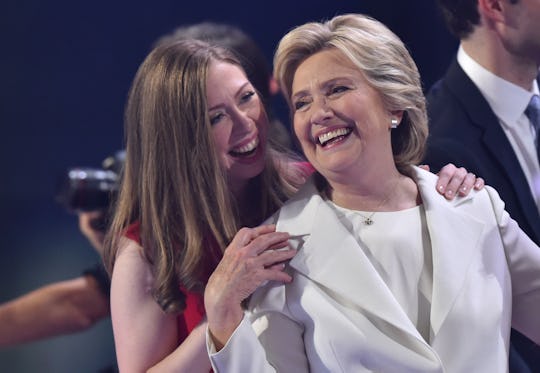 NICHOLAS KAMM/AFP/Getty Images
How To Buy 'Goodnight Moon,' Chelsea Clinton's First Read
In introducing her mother on the final night of the Democratic National Convention, Chelsea Clinton nodded to bookworms everywhere, using book titles as timeline markers that goal-posted her relationship with her mother. She remembers her mom as being, "always there for [her]." This set the tone for the two's bond, as she says: "My earliest memory is my mom picking me up after I had fallen down, giving me a big hug, and reading me Goodnight Moon." Mothers and parents everywhere are now searching how to buy Goodnight Moon, Chelsea Clinton's first book that she recalls reading with her mother.
Goodnight Moon wasn't the only book mentioned by Clinton that night — her introductory speech also nodded to the female protagonist driven sci-fi novel, Madeleine L'Engle's A Wrinkle In Time, as well as the picture book Chugga Chugga Choo Choo, which her mother now reads to Clinton's daughter. From Goodnight Moon onward, Clinton felt her mother's love and commitment to her literacy, her health, and her worldview — all themes that her mother managed to work into her own final speech.
Goodnight Moon is a sweet, short bedtime book. I recall my own momma rattling off the rhymes to my woozy, heavy head as I drifted off to sleep. The pages are painted with dark, soothing colors; it's a perfect read just before bed. Moms are now looking online to get their own copies, and they're in luck; Amazon Prime can ship this modern classic your way in just one day.
The book ranges on Amazon from about $6 in paperback to $6.74 in board book to $10.58 in hardcover. Walmart is selling Goodnight Moon online as well for a very similar paperback price of $6 (from the $7.99 list price) to $9.59 in hardcover, though shipping is only free on purchases over $50. Barnes & Noble and Target sell Goodnight Moon for similar price points, too. You can likely find this book in-store at any of these major retailers, as well as Toys "R" Us.
Chelsea Clinton's mentioning of these children's classes has spiked their popularity, increasing their rankings on best seller list. When I last checked, Goodnight Moon was at position 47 on Amazon's Best Sellers, which are calculated hourly, site-wide. The kids books that surpasses Moon are the board books First 100 Words, Giraffes Can't Dance, Moo Baa La La, The Very Hungry Caterpillar, and the paperback First Day Jitters. By acknowledging her mother's passion for education, Clinton nodded to just some of the books that not only have aided her intellectual development, but also served as a nighttime ritual that bonded her closer with her mother.