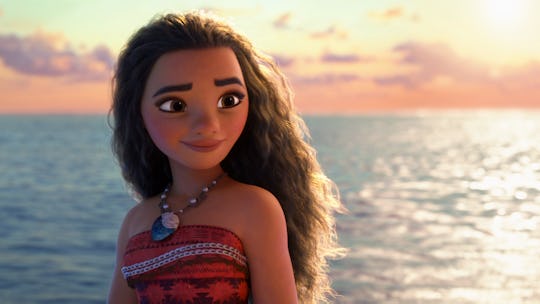 How To Buy "How Far I'll Go" From 'Moana', Because It's One Catchy Tune
Numerous commercials have us all fired up for the family friendly flick Moana! The Disney Store shares our excitement, devoting an entire section to the new princess. And in anticipation of it's debut, I can't stop replaying Alessia Cara's new song from the movie "How Far I'll Go." Alessia's voice married with the writing talents of Hamilton legend Lin-Manuel Miranda make this original song super addicting. Alessia and Disney fans like me are both probably wondering how to buy "How Far I'll Go" from Moana?
You can purchase the soon-to-be hit on Apple iTunes, listen on Spotify, and preorder the soundtrack on Amazon. The full soundtrack will be released on Nov. 18. Also, feel free to stream it below, but if you do, you'll be at the mercy of the replay button.
The song appears twice throughout the film in the same manner as Mulan's "Reflection" song. The first time the song is introduced, it is sung by Moana's lead Auli'i Cravalho. We then hear it a second time in the end credits by Alessia Cara. You're probably already familiar with the singer's charming pipes with songs like "Here," "Scars To Your Beautiful," and "Wild Things."
Entertainment Weekly announced the arrival of the song this morning as such:
Disney has debuted Cara's version, which houses a soaring chorus, a massive key change, and lyrics that echo the film's plot of a young woman who leaves her South Pacific island to restore her people's ancient role as master voyagers. "See the line where the sky meets the sea? It calls me..."
"How Far I'll Go" is reminiscent of The Little Mermaid soundtrack, as it's rhythm gently submerges listeners "Under The Sea." This comes as no surprise since Ron Clements and John Musker (the duo responsible for The Little Mermaid and Aladdin, among other classics) directed Moana, a smart move by Disney.
The new song suits the Disney icon during her brave voyage. Moana is a minority figure who bleeds girl power. Through her, Disney offers little girls everywhere a new role model to look up to, one who plays more to the likes of a firecracker than stereotypical princess.
The Moana soundtrack features seven original songs, including another track by Miranda, "You're Welcome," which will be performed by Dwayne Johnson. The new film will make waves Thanksgiving weekend.