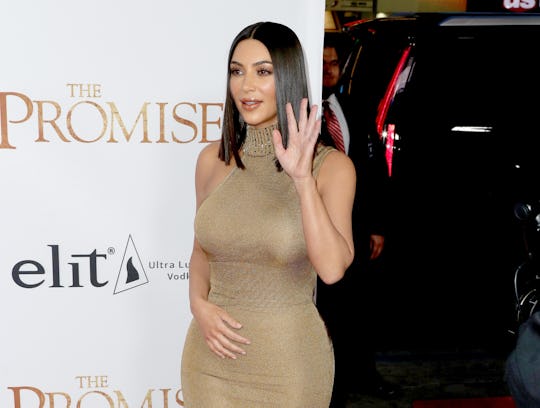 Frederick M. Brown/Getty Images Entertainment/Getty Images
How To Buy Kim Kardashian's New Children's Line
There is no denying that Kim Kardashian is an icon. From her social media presence to her style, Kim and the rest of the Kardashian sisters have continued to set trends (Kylie lip kits, anyone?) and carve their way into pop culture history over these past few years. Kardashian's influence has now made its way to children in the form of a clothing line, as Kardashian and husband Kanye West have been working on a children's clothing line for quite some time. And soon, even your child will be wondering how to buy Kim Kardashian's new children's line so they too, can be styled like the icon herself.
On Friday, Kardashian and West released the first pieces from the clothing line, simply named The Kid's Supply. The 16 item, gender neutral collection features smartly designed hoodies, tshirts, and accessories that won't cost parents their child's future college tuition. Prices for these items range from a $25 choker to a $240 silk bomber jacket.
Luckily for you and your child, the items are available to purchase right now and most of the items are not yet sold out. Seriously, head over to the website as soon as possible because, these unique pieces are worth showing off on the playground — or at least, on your child's pint-sized fashion Instagram.
The items, which range in size from a kid's size 2 to 7/8, can be directly purchased from The Kid's Supply website, will all be shipped in 3 to 5 weeks, according to the website. So while the items might not be at your doorstep in time for your kid's last day of school, your child will be the best dressed at those summer birthday parties or will be able to rock The Children's Supply while on summer vacation.
For parents who are huge Kardashian and West fans, this line is absolutely perfect — from the hand drawn "KIDS" logo on the shirts and hats done by West himself, to the line's inspiration, drawn from Kardashian and West's children, North and Saint (who are two seriously stylish themselves). All of these details make the line feel incredibly personal to the couple. It's obvious that Kardashian and West put a lot of thought into the children's clothes they created, rather than taking some basic clothes and slapping their name on the back.
This isn't West's first foray into children's fashion. West released a limited number of his Yeezy Boost sneakers designed for kids this past August. Unlike those sneakers, The Kid's Supply is much easier to get your hands on and won't break the bank if you buy your kid a piece or two. Your child will certainly be an icon in the making if they're wearing The Kid's Supply.