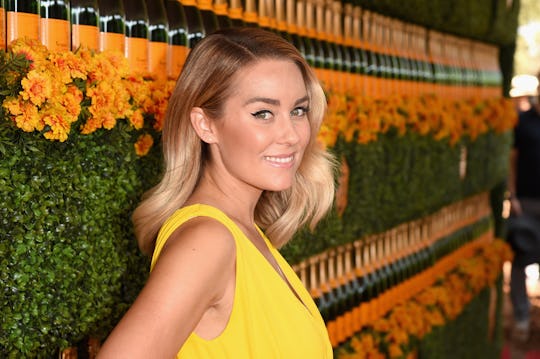 Jason Merritt/Getty Images Entertainment/Getty Images
How To Buy Lauren Conrad's Maternity Line
On Monday, television personality and fashion designer Lauren Conrad announced when her maternity line with Kohl's will be available, and how to get it. She seemed particularly excited about this endeavor, writing in the caption for the Instagram post, "I had so much fun creating a collection that would make soon-to-be mamas feel their best." Now, fans are eager to learn how to buy Lauren Conrad's maternity line for Kohl's, and they'd better get ready to do some quick shopping, because as cute as the collection is likely to be, if the rest of Conrad's collections are any indication, it won't be a surprise if much of the line disappears from the racks fast.
People reported that Conrad's collection with Kohl's is called LC Lauren Conrad Maternity, and that it has everything from dresses to jeggings for expectant moms. Conrad, 31, is expecting a baby boy with her husband William Tell, a lawyer, so she probably has a pretty good idea of what is comfortable and stylish for many pregnant people.
And in fact, Conrad told People that inspiration for the line did come from her own experiences expecting. She told the publication:
One of the things I really struggled with when I was shopping was that I wanted to maintain my everyday style, but I had trouble finding the types of pieces available in maternity collections. So I wanted to cater towards our existing customer who just happens to have a new shape...
On the Instagram post announcing the release date of the new line, Conrad stated that "It's available in select stores and online June 7th," so get your online shopping skills up to standard, unless you know for sure that your local Kohl's is going to have the line ready for purchase right away on Wednesday.
Right now, the Lauren Conrad section of the Kohl's website seems to feature her beach collection. But if the maternity line is popular, and as news of the collection gets out, that might change quickly.
Conrad told People that the process of coming up with the new line "really wasn't as challenging as I expected it to be. It was pretty simple," and that Kohl's has a lot of experience with maternity fashion, so she felt right at home with the retailer.
Refinery29 reported in late May that Conrad launched LC Lauren Conrad Runway Collection for Kohl's already.
It sounds like Conrad is learning a lot about this branch of fashion now that she's going to be a mom herself. She told Elle:
...maternity has come a really long way from when my mother or my friends' mothers were shopping, [but] it's still very limited and it's hard. Just because you become pregnant doesn't mean your style changes.
She also told the publication that she's not ruling out doing a children's line in the future, because "everything is cuter tinier."
Fans of Conrad and her designs are definitely excited for the launch on Wednesday, and reacted on social media to the Instagram announcement by their favorite fashionista.
It's clear that with this new maternity line for Kohl's, Conrad's fashion empire will expand even more, and mothers and moms-to-be can only benefit from her more accessible and stylish ideas of what maternity fashion can look like.