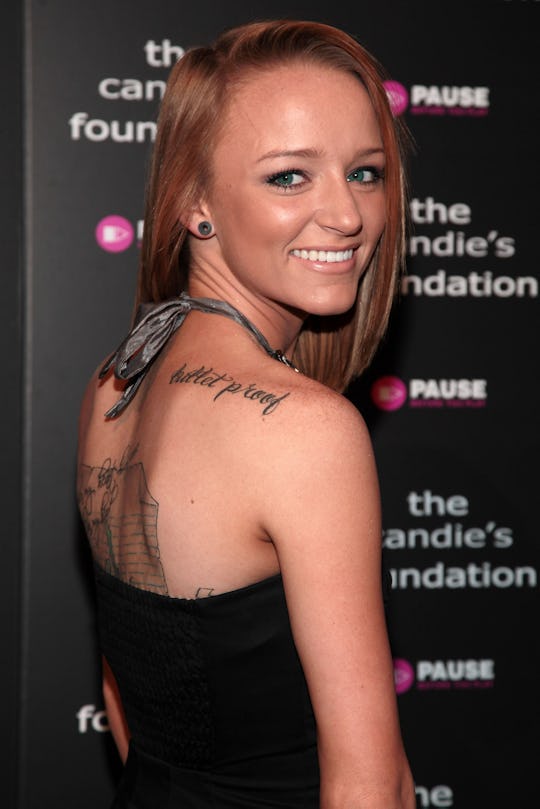 Astrid Stawiarz/Getty Images Entertainment/Getty Images
How To Buy Maci Bookout's New Book
Teen Mom star Maci Bookout has been living her life out in the public eye for years now, ever since she first joined MTV's 16 and Pregnant almost 10 years ago. Being a young mom is never easy, but doing so while opening yourself up to the scrutiny of millions is arguably just a tad more difficult — and Bookout learned a lot from the experience. If you want to know more about the lessons the 25-year-old Teen Mom learned, you're in luck: she just released a second book. Here's how to buy Maci Bookout's I Wasn't Born Bulletproof: Lessons I've Learned So You Don't Have To, and get an inside look at her views on life and parenting.
The book, a follow-up to her first foray into literature in 2015 with Bulletproof, documents how she learned to deal with mom-shaming, public scrutiny, and judgment. "Becoming bulletproof is a journey," Bookout writes in the first pages of her new book. She continues, according to Amazon:
It is a path worth taking because it leads to a stronger, happier you. In this book, I share with you the wisdom and life lessons I've acquired over the years.
If Bookout has served as an inspiration over the years, then I Wasn't Born Bulletproof should be a good read. Here's where you can get your hands on it:
Amazon
Find Bookout's latest book on Amazon, where you can order a hardcover copy to your door for $10.43 or purchase the Kindle version for $7.53.
Indigo
If you're not an Amazon Prime addict, consider stopping by a nearby Indigo/Chapters to pick up I Wasn't Born Bulletproof. The hardcover retails for $18.23 online, and you can check specific retail stores' stock if you want the book in your hands stat.
Google Play
If you like reading on your Android, pick up an e-copy of the book on Google Play for just $10.58.
Simon & Schuster
Grab the hardcover book online for $15 from Simon & Shuster.
Barnes & Noble
Get the book at Barnes & Noble either in store or online for $10.67. You can also check which B&N stores near you have the book in stock.
If you'd like to grab the book from a local independent bookstore, you can check which stores have the book in stock at Indie Bound online. If you haven't checked out Bookout's other literary endeavors, you can also pick up a copy of the original Bulletproof or Bookout's adult coloring book at the same time. Happy reading!