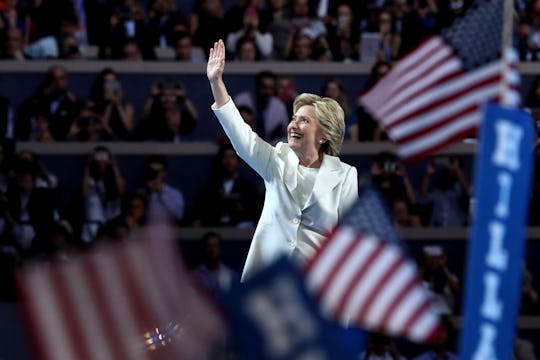 Jessica Kourkounis/Getty Images News/Getty Images
How To Buy 'Stronger Together', Jessica Sanchez's DNC Single
On Thursday, former Secretary of State Hillary Clinton proudly accepted the Democratic nomination for President of the United States. It was an historic moment as Clinton wrapped her speech and music burst out over the speakers at the Wells Fargo Arena in Philadelphia, Pennsylvania. After a brief Katy Perry block of tunes, the musical medley ended with "Stronger Together" — an uplifting, optimistic end to an incredible convention. Need a new girl power tune to add to your Spotify playlist? Here's how you can buy "Stronger Together," Jessica Sanchez's DNC single. Well, I have good news and bad news.
Good news... "Stronger Together" is free right now on YouTube! Bad news: You can't buy or stream "Stronger Together" from iTunes, Google Play, Spotify, or TIDAL right now. Sanchez's album only just debuted Tuesday at the DNC. With Sanchez on vocals, the song was written by Bruce Roberts, Carole Bayer Sager, and Kenneth "Babyface" Edmonds. Speaking to Billboard, Sanchez revealed that the version of the song the public heard during the DNC isn't actually going to be released to the public:
I am going to go back in and re-record it and make it a lot more clean. It will be the first time that I actually ever meet Babyface and work with him. I am really excited for that.
The song could be available for purchase next month, but expect to hear it all over Clinton's campaign trail — and Sanchez may even perform it live on the road with Clinton. But until a commercial version of the track is released, you can jam out to "Stronger Together" on YouTube: