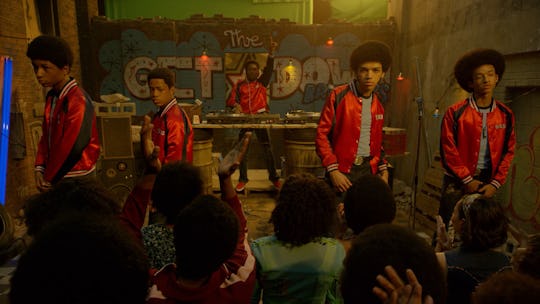 Netflix
How To Buy 'The Get Down' Soundtrack, Because You Know You Want To
The next big release in the pipeline for Netflix is the Baz Luhrman-helmed period musical drama The Get Down, which follows a group of teenagers at the forefront of hip hop in late 1970s New York. With Nas executive producing and Luhrman's proven talent for developing epic musicals, you can bet that fans will be wondering how to buy The Get Down soundtrack. Set in The Bronx, the series follows Shaolin Fantastic, a budding DJ who learns from Grandmaster Flash, Ezekiel "Books" Figueroa, the MC he teams up with, and a bunch of Ezekiel's friends, who round out the beginnings of a hip hop group called The Get Down Brothers.
Meanwhile, the hip hop elements of the show are juxtaposed against the winding down of the disco era. Ezekiel's love interest Mylene is a church choir member desperate to become a disco singer in the vein of Donna Summer. So along with gritty rap, the show also delivers soaring and soulfully sung numbers. The soundtrack already boasts tracks from Nas, Miguel, Christina Aguilera, Zayn, Michael Kiwanuka, Leon Bridges, Raury, Grandmaster Flash, Malay, Nile Rodgers, and Janelle Monáe, along with original music from the cast members themselves. You can listen to snippets of Janelle Monáe and Miguel's contributions to the soundtrack here.
The rest of the album, which was recorded on Baz Luhrman's label House of Iona via RCA Reconds, will release exclusively on Apple Music when the series premieres on Netflix on August 12th. Said Luhrman in the press release:
"This album is an introduction to the many musical genres and styles that can be heard in The Get Down, which is really a story of New York in the late '70s, an incredibly fertile time of creativity amid chaos. While our production is a musical that embodies many classic hits, we also use contemporary sounds and techniques connecting the dots between then and now. My great privilege is to have associated with such a diverse musical community."
No word yet on whether this makes the soundtrack in an extended version, but Hamilton nerds might be happy to hear that Daveed Diggs makes a brief appearance on The Get Down, playing Ezekiel in a flash forward in which he raps a few bars of Nas in a stadium in front of adoring fans, giving us an idea of the success that would eventually befall The Get Down Brothers. Fingers crossed that one makes the album.