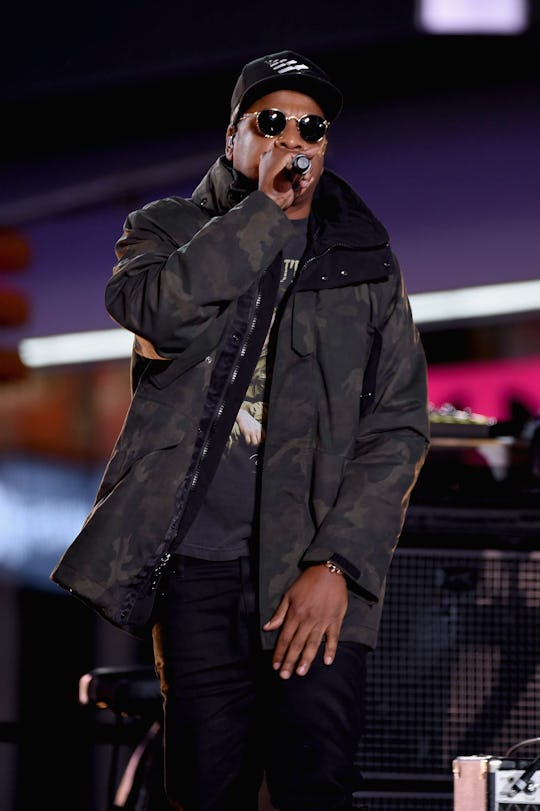 Gary Gershoff/Getty Images Entertainment/Getty Images
How To Buy Tickets To JAY-Z's '4:44' Tour
Rumi, Sir, and Blue Ivy Carter's dad is hitting the road this fall. Fans have been hoping that, seeing as JAY-Z's album was just released, tour dates would be announced, and as of Monday, they finally were. If you want to know how to buy tickets to JAY-Z's 4:44 tour, then keep reading; You'll want to preorder soon, because they're definitely coveted.
4:44 the album was released on June 30, and the project has been applauded for its vulnerable, edgy, and super personal multimedia content. The 47-year-old JAY-Z addresses everything, from Lemonade's cheating allegations to the existing plight of black Americans. His songs ring true for so many, so hearing them performed in person is just that much more important.
Starting at the end of October, the 31-city tour will circle around North America and back. Things will kick off in Anaheim, California on Oct. 27, and on Dec. 21, Los Angeles will shut it all down. Given that the tour will hit both U.S. coasts as well as Canada, it's safe to assume that Hova's certainly going to be busy.
As of now, tickets are only available for a select few, namely Tidal members (aka JAY-Z's music streaming service) and Citi cardmembers. Tidal subscribers and Citi cardmembers were able to start preordering on Monday, July 10 at noon Eastern Time. General 4:44 ticket sales will begin on Live Nation's website on Friday, July 14 at 10 a.m. Eastern Time.
Tidal made the big announcement about the tour on Twitter Monday morning:
If you can't get JAY-Z 4:44 tour tickets, you might be able to catch him at a festival before the tour starts; He's planning on attending Meadows in New York, Austin City Limits, and Made in America Fest, set in Philadelphia, so keep your eyes peeled if that's more your thing (or if you miss out on tour tickets).
Many have noted, of course, that JAY-Z's tour is happening as his newborn twins are still in their infancy. Beyoncé will definitely need a little help in his absence, since she's got a full house and the babies are just a bit too little for a concert venue. Luckily, the tour wraps up just before the twins' first winter holidays, so they family can be all together by then.
So the twins might not be there, but will 5-year-old Blue join JAY-Z on tour? The firstborn Carter child was featured on a 4:44 bonus track titled "Blue's Freestyle / We Family." "Everything everything, this my only single thing," she raps, showing that the family's definitely starting them young. She may not have a full set, but perhaps an opening slot is hers for the taking.