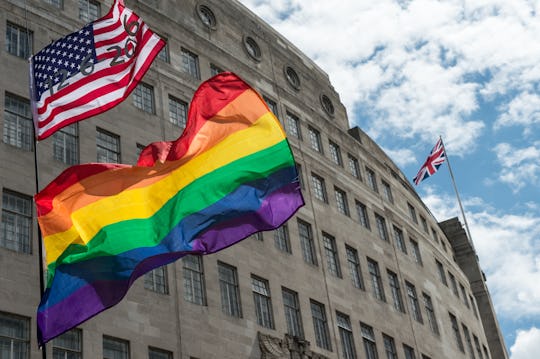 Chris J Ratcliffe/Getty Images News/Getty Images
Pressure Your Rep To Ban Conversion Therapy For Kids
Last year, Democrats in Congress tried to pass a bill that would help protect LGBTQ youth by banning conversion therapy, only to have it shot down by the Republican majority in Congress. On Tuesday, several senators and representatives decided to try again, introducing the Therapeutic Fraud Prevention Act into the Senate and the House of Representatives a second time. They're backed by several Democratic colleagues, but in a Congress dominated by Republicans, they'll need all the help they can get in pushing the bill through. Here's how to call your rep about banning conversion therapy in order to help protect the youngest members of the LGBTQ community.
According to BuzzFeed News, the bill would ban conversion therapy programs, which claim to be able to turn gay people straight or to get transgender people to identify as their sex assigned at birth. If the bill passes Congress, providing or advertising conversion therapy services would be labeled as a fraudulent practice, and both the Federal Trade Commission and state attorneys would be able to enforce regulations.
Most psychiatric and psychological organizations, such as the World Psychiatric Association and the American Psychological Association, have said there is no proof that innate sexual orientation or gender identity can be changed. In fact, many assert that attempting to alter someone's sexual orientation or gender identity can be damaging.
Jennifer Pike Bailey, a senior public policy advocate for the Human Rights Campaign, wrote in an HRC blog post on Tuesday:
These practices are based on the false premise that being LGBTQ is a mental illness that needs to be cured, a theory which has been rejected by every major medical and mental health organization for decades. To the contrary, research has clearly shown that conversion therapy poses dangerous health risks for LGBTQ young people, including depression, anxiety, drug use, homelessness, and suicide.
The Therapeutic Fraud Prevention Act was introduced to both the House of Representatives and the Senate on Tuesday, so now is the time to contact your representatives in both places. First, call your senators to express support: you can easily find your senators' phone numbers by state on the Senate website, and you should call both and ask them to support the bill.
You can also find your representatives by entering your zip code on the House of Representatives website. While there's no immediate list of phone numbers, you can click a link to each representative's website, where you'll find contact information. Be sure to call their offices and leave messages if you can't reach them directly.
Other than that, make sure you spread the word and encourage others to reach out to their representatives. And don't be shy — if you have the time, you can also email your representative, find them on social media, or send them a letter, as well. The more pressure the public puts on their representatives to protect LGBTQ kids, the higher the chances are of the Therapeutic Fraud Prevention Act passing in Congress.