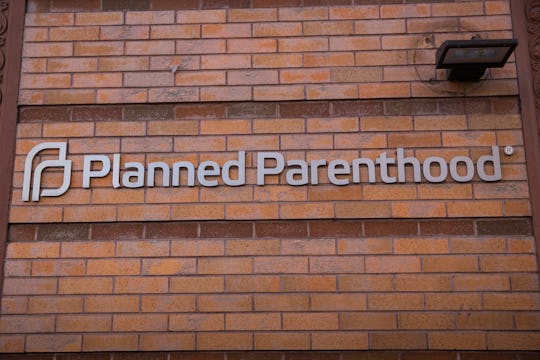 Andrew Burton/Getty Images News/Getty Images
Calling Your Representative About Title X Funding
Whether utilized for their fertility resources or their family planning guidance, their pregnancy help or their abortion services, Title X clinics provide tons of American women with otherwise unavailable help. Recent measures restricting Title X funding, then, are definite cause for alarm. Here's how to call your representative about Title X funding, because voicing your concerns will help not just your own circumstances, but also those of the people around you, both now and in the future.
It's vital to note that, prior to these measures, public funding of abortion still was not allowed, as mandated by the Hyde Amendment. Thursday's bill works deeper, though, preventing any family planning funds from going towards organizations that provide abortion services.
Planned Parenthood (PP) has a helpful guide on how to tell your representatives to support Title X funding. PP first asks for your phone number and city, state, and zip code, then calls you, then connects you with your respective representative, just like that! They even provide a script, one that notes the major impact of this decision, sharing that
Title X is a critical, lifesaving program that provides access to cancer screenings, STI testing and treatment, birth control, well-woman visits, and more.
Using this method is an easy, thorough way to ensure that your representatives hear from you. It's no wonder why PP is so invested in saving Title X funding right now, as the recent bill aiming to allow states to opt to take away its federal funds was recently passed by the House, Senate, and has now been sent to the desk of President Donald Trump.
If you'd rather go through the process of calling your representatives on your own, though, you can look up your House representatives here and find their contact info here. Also be sure to look up your Senate representatives (seeing as they're the ones who just passed this measure on Thursday), too. As for a script? Simply explain to your representatives why you find Title X funding to be so helpful as well as the reasons why you (and others) don't want to lose it. Speaking from personal experience also helps, if you're comfortable with sharing some support you've received from a Title X-funded clinic.
Thursday's decision was a close one, with Vice President Mike Pence breaking the tie. Democrats unanimously rejected the resolution, and two Republican senators joined them, but President Donald Trump is still expected to sign the bill. If anything, this conversation is far from over. In a time where it might feel like there aren't many ways to have your voice heard, a phone call to a representative can be a strong, tangible action.