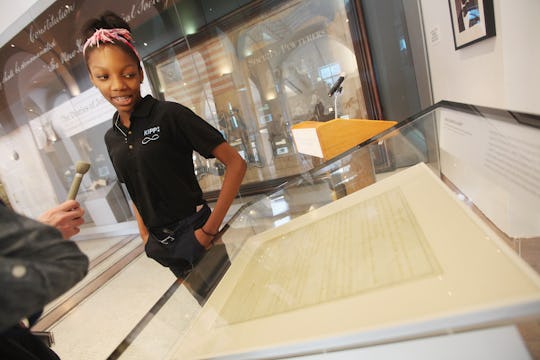 Mario Tama/Getty Images
How To Celebrate Black History Month, Because It's Something We Should All Honor
The beginning of February is a time when many of us wonder how to celebrate Black History Month in a meaningful, valuable way. Sure, it's easy enough to take a moment or two to ponder the accomplishments of Martin Luther King Jr., or listen to celebrities talk about black history on cheesy promotional spots for media outlets, but, as Slate writer Aisha Harris pointed out in her essay "Let's Fix Black History Month", black history is about much more than just the accomplishments of "the usual suspects." Harris argues that if we're going to take a month to celebrate black history, we should take the time to "address the genuinely overlooked facets of black history" rather than just brush up on the basic facts of figures like Malcolm X and Harriet Tubman.
The origins of Black History Month are all about education, and the month was once just a week. In 1926, African-American historian Carter G. Woodson deemed the second week of February "Negro History Week." The chosen dates were a nod to Abraham Lincoln, who was born on Feb. 12, and Frederick Douglass, who was born on February 14. Woodson hoped that teachers in the public education system would devote the week to teaching their students about black history. "If a race has no history, it has no worthwhile tradition, it becomes a negligible factor in the thought of the world, and it stands in danger of being exterminated," Wilson wrote in 1935.
And so, in the interest of keeping history alive, here are some ideas for how to celebrate Black History Month appropriately.