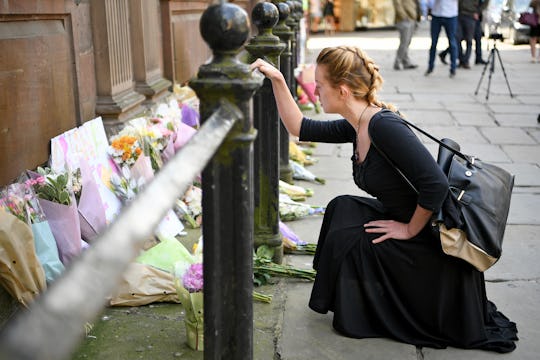 Jeff J Mitchell/Getty Images News/Getty Images
How To Change Your Facebook Photo To Support Manchester
On Monday night, a lone suspect is thought to have detonated a bomb at the Manchester Area in the UK, following an Ariana Grande concert. At least 22 people have been killed, according to CNN, including a number of children. It's the kind of heartless attack that is hard to even begin to wrap your head around — especially given that the show itself was one that would naturally have attracted a younger crowd. Many have taken to social media today to express their shock and sadness over the incident, and to show their solidarity with the people of the city. Wondering how to change your Facebook photo to support Manchester? It obviously won't change the devastating reality, but it's still a meaningful gesture.
The temporary Facebook profile photo has become a common — and very sad — occurrence following terror attacks around the world, mostly because it gives people some kind of small way to express how they're feeling, and that they are thinking about the victims and all of the people who have been affected. After the November 2015 terror attacks in Paris, many Facebook users temporarily changed their profile photos using a French flag filter, according to The Independent, and after the March 2016 attack in Brussels, the Belgian flag also became a popular overlay.
If you're looking to change your profile photo to honor the Manchester victims, you have a few options. The easiest way is to use Facebook's built-in frame feature, which can be accessed by choosing the "update profile picture" option on your Facebook page, and then choosing the "add frame" option. From there, a list of various filters will pop up, along with a preview of how they will look on your actual photo. A search for "Manchester" in the search box will give you a number of options, including a "Pray for Manchester" frame, a heart overlay based on the Manchester flag, or an "I stand with Manchester" filter.
Another option is to change your profile photo to the Union Jack using a third-party site like Rainbow Filter, which makes it easy to add flags from different countries as your Facebook photo. First, click the link for the U.K. flag, and then login to Facebook. From there, you can follow the prompts to set your new picture.
In addition to the U.K.- and Manchester-themed photos, some users on social media have also adopted Ariana Grande-themed profile pics to show their support for both the city and the singer, whose Monday night performance was meant to be one of three scheduled concerts in the U.K. Grande had completed her set prior to the blast, and was not injured, but took to Twitter in the hours following the attack and wrote, "broken. from the bottom of my heart, i am so so sorry. i don't have words."
The attack on Manchester is yet another heartbreaking reminder of the reality of terrorism and the senseless violence waged against innocent people. And the fact that, this time, it affected so many children and young teens seems even harder to bear. Social media messages and flag overlays aren't in any way a solution, but they at least help provide a way to communicate the shared feeling of shock and sadness. And at a time when the headlines seem so grim, they are also a reminder that people around the world are still attempting to stand together.