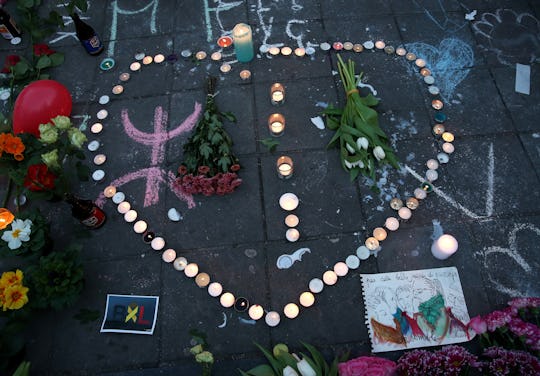 Carl Court/Getty Images News/Getty Images
How To Change Your Twitter Avatar to Support Brussels
As the world watches smoke clear from today's Brussels terrorist attacks, it's natural to want to do something, anything, to show you care. The common reaction to these sorts of international tragedies these days, is for people to make the symbolic gesture to update their social media accounts with images to show solidarity for victims. Reaction to the attacks in Brussels has been similar, with all sorts of memes and tributes for Brussels cropping up as a way for people everywhere to collectively process such devastating, random acts of violence against innocent strangers. On Tuesday morning, the Twitter account for Paris wanted to let everyone know the City of Lights was standing with Brussels by changing its Twitter avatar to the colors of the Belgian flag. It was a lovely gesture that caught people's attention. So if you want to follow Paris' lead and change your Twitter avatar to support Brussels, here's a few tips to make it a little easier.
Step 1: Find A Good Image
A solid avatar is, according to Twitter, ideally sized to 400 pixels by 400 pixels. But beyond just finding the right size, a good avatar image is simple, bold and easily communicates something despite it's small size. Simple, because details won't show up in such a small image and bold, because you need to make a statement with just a small amount of real estate. Check out Paris' Brussels avatar, which gets it exactly right.
Here's another image that would work well for a Brussels Twitter avatar. Note that if the image has a watermark or signature on it, or if the artist's name is listed anywhere, you will have to get permission from the artist or creator before using the image.
Step 2: Download Your Image
Once you've found the image you want to use, download the image and save it to your computer. Here's another great image option courtesy of the ultimate social media momager, Kris Jenner.
Step 3: Click On Your Current Twitter Avatar
This will bring you to your profile page, then click on the "Edit profile" button on the right-hand side of the screen just under your header image.
Step 4: Change Your Profile Photo
Click on avatar where it reads "Change your profile photo" and upload your new image. Depending on the size of the image, you can center it a bit in the box. Once it's where you want it, click save.
If you have any additional edits, crops or customization to make to your image, there are free photo editing sites out there like PicMonkey.com, which allows you to make basic image edits for free.
No matter what image you choose, anything that stands in support of Brussels will help the city know that it isn't alone in the fight against terrorism and hate.