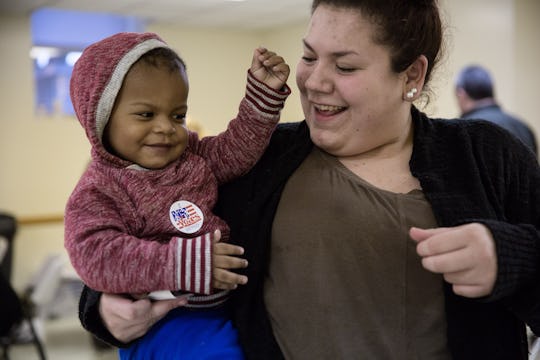 Kayana Szymczak/Getty Images News/Getty Images
How To Check If You're Registered To Vote, Because The 2018 Midterm Elections Are Coming Up
With the Nov. 6 date for United States elections quickly approaching, a lot of people are in a hurry to confirm their voting status. For those who are able, participating in local politics is incredibly important, and elections are one way to contribute. And making sure that your ballot counts is important, too, so here's how to check if you're registered to vote.
Although 2018 isn't a presidential election year, there are plenty of government positions up for election at all levels, according to The Independent. State and local politics have a lot of influence over people's lives, so although these elections may not always be the hot topic of conversation, they're incredibly important.
This year marks the midterm elections, which take place between presidential elections. As outlined by the USA.gov, "voters elect one-third of all U.S. senators and all 435 members of the U.S. House of Representatives during the midterms." In addition to midterms, 2018 is a year for gubernatorial elections for many states, according to 270 To Win. Gubernatorial refers to governor election, and, according to Ballotpedia, 36 states will hold elections for governor on Nov. 6.
All of these positions are just as important as the president. And if you want to cast your ballot, you need to make sure you're registered to vote.
Registering to vote can seem daunting, but, luckily, many people are working to make the entire process easier. On Sep 17., for instance, Sen. Kamala Harris tweeted an image reading, "Only 50 days left until Election Day. Get registered." She also shared a link to IWillVote.Com, which helps you register to vote or confirm that your registration is all good for this upcoming election.
Another way can check your registration status is by visiting Vote.Org. When you visit the website, you will be prompted to give what state you're a resident of. The site then gives you the option to register or check if you're currently registered to vote. Overall, the process isn't too complicated. If you're unsure about whether you're able to vote, you can use the site to check that, too. Since circumstances differ state-by-state, it's also best to visit your state's website.
Knowing the importance of this upcoming election, social media apps are even getting involved in the voter registration process.
Keep your eyes peeled, as Verge earlier this month reported that Instagram is now using ads to help register users to vote. The app is partnering with TurboVote, which is an application designed to make voting easy. According to TurboVote's website, "TurboVote keeps track of voter registration, absentee, and vote-by-mail rules for all 50 states, so you don't have to."
In their new joint campaign, Instagram will use ads in both users' feed and stories, according to Verge. It will include an easy link with voting information. Instagram will also provide links to Get to the Polls on Election Day, as Verge reported.
Registering to vote is only half the process. It's also necessary to turn up or cast an absentee ballot, which lets you vote by mail if needed.
For those able to cast their vote in person, Get to the Polls is a website that does exactly what it says — it gets you to the polls. In the case of absentee ballots or early voting, you need to check your state's rules specifically regarding when you need to turn in your ballot. Because although they are offered by every state, the USA.gov website noted that rules can vary between the states.
Under Trump's presidency, the importance of participating in politics cannot be any more clear. As reported by Vox, the stakes are high for the 2018 midterms. If either of the houses flip, there may be higher chances of President Donald Trump's administrative actions being appropriately called into question, as Vox noted. But, as NBC News reported, this election will have lasting effects on other issues, such as immigration and health care.
Take some time to read up on your local politicians and new candidates, too. Voting is part of the process, but staying active and educated throughout the year is crucial as well. Needless to say, save the date on Nov. 6 and be sure to turn out and vote.