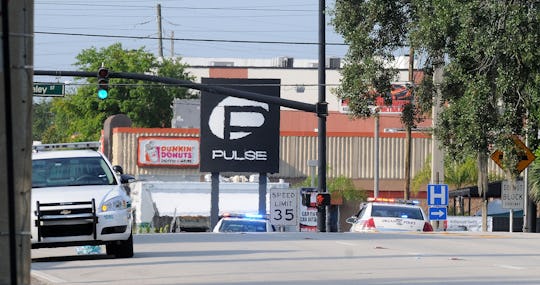 Gerardo Mora/Getty Images News/Getty Images
How To Check In As Safe In Orlando & Let Loved Ones Know You're Okay
For those with friends and family who are currently in Orlando, Florida, the news from today about the largest mass shooting in the United States — killing at least 50 people at a gay nightclub in Orlando — must be terrifying. If you're living in Orlando and need to tell your friends and family that you are safe, there is an option to let everyone know that you're doing okay. Here is how to check in as safe in Orlando, thanks to Facebook.
(Update: The FBI has updated the death toll to 49 victims. The shooter was also killed.)
Thanks to a special feature called Facebook Safety Check, you or your friends and family that are located in Orlando can mark themselves as safe, letting everyone know that they are okay. This is incredibly handy, due to the high traffic nature of Orlando, which is a popular vacation destination and the location of Walt Disney World. Therefore, even if you don't know anyone that lives in Orlando, you might know someone who is vacationing there.
Facebook users, who are identified as being in Orlando, will receive a notification from Facebook, asking them to check in on the website and mark that they're safe or not in the area. From there, you can add a comment, updating everyone on your condition or proximity to the area.
Facebook Safety Check also gives those in Orlando or the Orlando area the ability to see a list of which friends have been marked as safe — incredibly handy for when you remember what friends have been in Orlando recently. It will also send notifications to friends, letting them know that their friend is safe. Facebook Safety Check is a great tool for those who can not call or text every single one of their loved ones to let them know that they're okay — but do have access to Facebook on their phones. The Facebook Safety Check for the Pulse nightclub shootings has already been utilized by multiple people in the Orlando area.
Users on Twitter seem to be incredibly grateful for Facebook Safety Check during this moment of piecing together the details of what happened at the nightclub last night.
If you are currently in Orlando and have the ability to check in on Facebook, please do so. Not only your family members but friends and high school acquaintances will be so grateful that you are okay and that you are safe. It is incredibly important to be accounted during this time where we are still piecing together all of the details from Sunday morning's shooting.