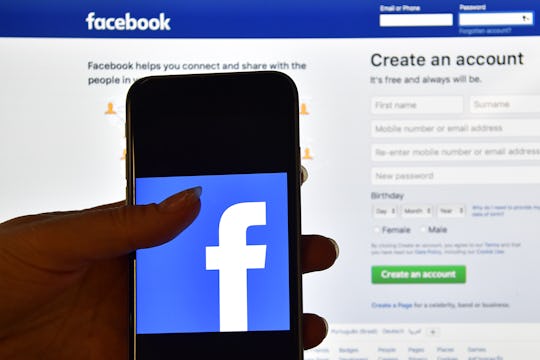 Carl Court/Getty Images News/Getty Images
How To Check What Personal Information Facebook Has, & Whether You're Data Was Shared
So your data may have been shared with Cambridge Analytica, but there are ways to check what personal information Facebook has — if that gives you any sort of comfort. In case you're out of the loop and wondering what happened, in short, Facebook suspended Donald Trump's data operations team for misusing people's personal information. Basically, a Facebook app developer (of the "This Is Your Digital Life" app) collected 50 million Facebook profiles (including that of Mark Zuckerberg), and sold that information to Cambridge Analytica, according to The Verge. Facebook said it has hired a forensics team to investigate Cambridge Analytica, which reportedly hasn't yet deleted Facebook user data as promised, The Verge reported, but is allegedly conducting a third-party audit over Facebook data.
For now, Facebook will reportedly limit developers' access to account data, will no longer allow third-party data for targeting ads, and will reduce its Android call history and SMS data collection, among other steps, according to The Verge.
Naturally (and justifiably so), Facebook users and investors are freaking out. Facebook stock tanked after the data breach, shaving billions off the company's market value, The Verge reported. Likewise, the WhatsApp co-founder told everyone to ditch their Facebooks. Companies have been pulling ads off the platform. Elon Musk removed Telsa and SpaceX's Facebook pages. Playboy deleted its Facebook accounts. Things are going down.
So, to remedy things... sort of... Facebook has started notifying up to 87 million people that their information was improperly obtained by Cambridge Analytica, according to The Guardian, but not everyone has received the notification yet. If you're one of those who has yet to have seen the prompt in your News Feed, there is a simple way to check your account. In short, Facebook's help center offers a section that tells you whether you or a friend were affected.
"Recently, we shared information about the potential misuse of your Facebook data by apps and websites," the notice reads. "We also shared plans for how we're taking action to prevent this from happening in the future."
You can then check to see if your information may have been shared with Cambridge Analytica via the app "This Is Your Digital Life." My page, for example, reads:
Based on our investigation, you don't appear to have logged into "This Is Your Digital Life" with Facebook before we removed it from our platform in 2015.However, a friend of yours did log in.As a result, the following information was likely shared with "This Is Your Digital Life": Your public profile, Page likes, birthday and current city.
My Facebook notice also added that a small number of people who logged into "This Is Your Digital Life" also shared their own News Feed, timeline, posts and messages, which may have included posts and messages from me. They may have also shared my hometown information.
But this data breach may have a domino effect, many fear.
"There are certainly thousands, if not millions, of applications that had similar access and collected similar data — and many are still doing it, although under different terms," Ian Bogost, a professor at the Georgia Institute of Technology and contributing editor to the Atlantic, reportedly told Vox.
In order to prevent platform abuse, Facebook says that it's notifying users if an app misused their data, making it easier for users to manage the apps they use, turn off access for unused apps, and restrict Facebook login data, according to its Help Center.
You can do your part to protect yourself in the future, too, by changing your privacy settings and helping your friends change their privacy settings. Or... you can just delete your page entirely. After you've finished downloading your archive of cringeworthy photos and posts that'll surely take you down memory lane, click this link. It will take you to the account deletion page so you never have to worry about this again.
It was a solid run.