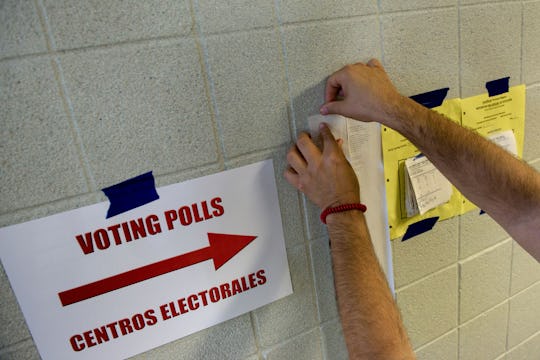 BRENDAN SMIALOWSKI/AFP/Getty Images
How To Check Your Polling Place Ahead Of Election Day
After months of madness, it's almost time to cast your vote in the presidential election. But in 2016, nothing related to the election is simple, so it's important to make sure you're super-prepared, and check your polling place ahead of Election Day. It only takes a moment, and could save you hassle or confusion on Nov. 8.
Rock The Vote has a quick and easy tool to look up your polling place. All you have to do is type in your address, and it gives you the location, as well as a map and a list of everyone on the ballot. (That way, you can be prepared to vote for people beyond just the presidential candidates!) The main page of the website can also tell you what you need to bring to the polls, let you know your registration status, and more. Another website with an easy tool is Vote411.org, which also lists some hotlines you can call if you're having issues with voting. Otherwise, official state websites should have accurate polling information as well.
It's important to make sure that whatever site you're using is legitimate, since a lot of people have been spreading misinformation this election season, trying to keep voters away from the polls. (No, you can NOT vote for Hillary Clinton via text message, as wonderful and convenient as that would be.)
Some well-meaning people have also accidentally misdirected voters, as apparently happened when the Indiana Democratic Party sent out text messages with incorrect polling information to about 2000 of its voters.
And you should definitely know where you're going in advance of Election Day. First of all, it makes your day easier, since Tuesday isn't a national holiday, so not everyone has the whole day off of work to figure out how to cast their vote. Second, experts have warned of a chance that a cyber attack (similar to the one that knocked out Twitter and a whole host of other popular websites a few weeks ago) could temporarily shut down websites that help voters figure out where to go on Election Day. It's a good idea to screenshot or print out the information you might need, just in case.
For over a year now, the election has dominated the news. But all the arguments, the memes, and the anxiety won't mean anything unless you actually get out there and vote. So look up your polling place and make a plan. Let's do this, America.