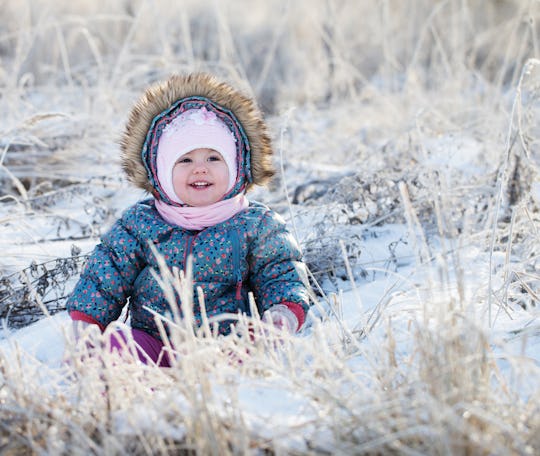 Maya Kruchancova/Fotolia
How To Choose A Baby Snowsuit So Your Tot Stays Warm In The Cold
If you're going to brave the winter weather with a baby in tow, you likely want to do everything in your power to keep the little one toasty warm. After all, if you feel a bit chilly outside, then your baby is probably even more susceptible to the cold. Once those flurries start to fall, you may wonder how to choose a baby snowsuit to help your baby brave the elements in comfort.
Like many baby-related things, finding the best winter clothes for your infant can get complicated (and expensive) very quickly. Picking out the best snowsuit — if you even need one at all — can become an exercise in frustration. Should you go for down or polyester? Is the snowsuit compatible with your car seat? And why do some of these snowsuits for babies seem to cost more than most ski wear for adults?
Everything from your area's weather conditions to your baby's age and size can influence your choice of snowsuits considerably. Thankfully, picking out such important winter gear does not have to be an exercise in frustration, as long as you know what to keep in mind. Here are some important factors to consider when picking out a snowsuit for your little one, so you can both stay warm all season long.