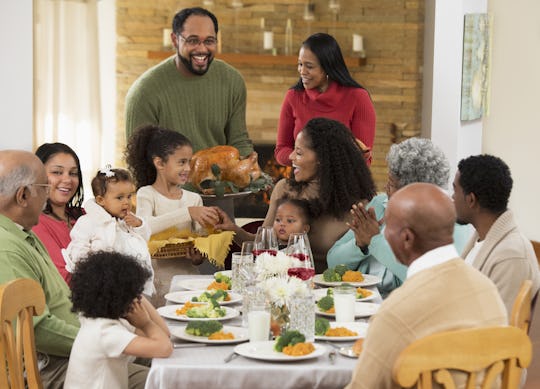 Amble Design/Shutterstock
How To Conceal Your Pregnancy When You're With Your Family
The holiday season is here, and with it comes the traditional family gatherings, Thanksgiving dinners, holiday parties, and a host of other events where you're likely to be around people. When you're pregnant and trying to keep it a secret, parties (holiday or otherwise) are one of the most difficult places to be. Learning how to conceal your pregnancy when you're with your family or friends is important if you're planning a big announcement once you're further down the road in your pregnancy.
You don't need to be a seasoned white-liar or a professional actress to convince people you aren't pregnant. But it can be difficult when you're feeling side effects of your first trimester like nausea, exhaustion, and the desire to not be around people and just stay in bed all day. However, not giving away your secret will pay off when you get to reveal your big news just the way you'd planned.
Simple distractions may be enough, but if you're the usual life of the family gatherings and people start acting suspicious when you've taken one too many trips to the bathroom or after you've repeatedly turned down your favorite champaign, it may be time to bring out the big guns, so to speak.