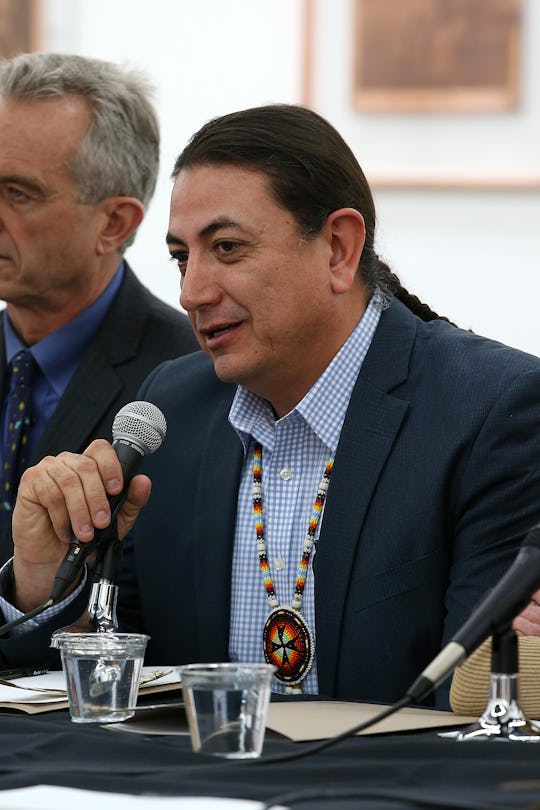 Phillip Faraone/Getty Images Entertainment/Getty Images
Standing Rock Sioux Know What They Need. Ask Them.
Though it seemed that the Dakota Access Pipeline (DAPL) was halted for good in December 2016, President Trump signed an executive memorandum on Tuesday, promoting its construction once again. Months-long protests in Cannon Ball, North Dakota sought to prevent the completion of the DAPL, but now it appears that legislation is the Standing Rock Sioux tribe's preferred course of action, rather than protests. As the potential construction of the DAPL will have the biggest impact on the area's inhabitants, listening to the needs of the community at such a critical time is key. Here's how to contact Standing Rock Sioux leaders, to find out what kind of support they need most.
The Washington Post acknowledged a disjointedness in ideology between visiting Standing Rock protestors and local tribe leaders, noting that "Standing Rock tribe leadership has asked protesters to leave by February 19, but many are determined to stay, convinced that the Trump administration will give the project the green light soon." On Jan. 21, the Standing Rock Sioux tribe's Facebook page articulated that, "moving forward, our ultimate objective is best served by our elected officials, navigating strategically through the administrative and legal processes."
Whereas widespread protests had a definite impact, the pressure put on local lands has been intense. "It is imperative we clean the camps and restore them to their original state," prior to spring, which will bring flooding throughout, the Facebook post shared. On Tuesday afternoon, another update responded to Trump's memorandum, reaffirming: "Nothing will deter us from our fight for clean water. We will be taking legal action, and will take this fight head on."
The post continued to share a few specific ways to help the Standing Rock Sioux, providing a link to a form where members of the public are able to submit "potential issues, concerns, and reasonable alternatives that should be considered" in an Environmental Impact Statement (EIS) surveying the DAPL. Additionally, the post asked: "Please also call your congressional representatives and let them know that the people do not stand behind today's decision." For further inquiries, the Standing Rock Sioux tribe contact form is available.
Protectors of Standing Rock assert that building a pipeline would contaminate drinking water and destroy sacred lands. Local Sioux leaders and representatives have been quite clear on Facebook that, as of now, they would like protestors to clear out, focusing instead on submitting EIS ideas and making calls to congressional representatives. If Saturday's country-wide Women's March protests are any indication, dispersed demonstrations can also make a huge impact. As the Standing Rock natives focus on legislation and repair, it could be time for large-scale rallies against the DAPL, just not on-site.