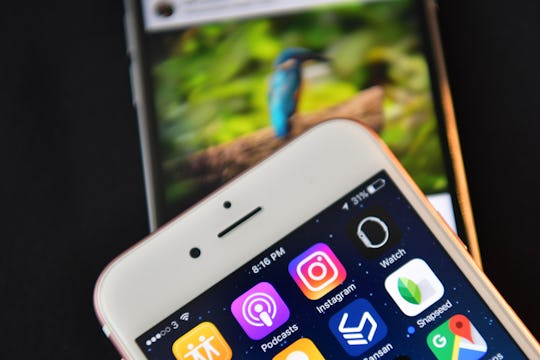 Carl Court/Getty Images News/Getty Images
You Can Now Control Exactly Who Comments On Your Insta — Here's How
Instagram exists for beauty, right? It's where you go to see glowing pics of your best friends's adorable kids with the penguins on their first trip to the zoo and a hilarious video clips of cats being jerks. But, like any popular social media site, Instagram is oftentimes a hotbed for mean remarks, harassment, and abuse. So, to celebrate reaching the 800 million-user mark, the app's architects have rolled out some tools to make Instagram a kinder place all around. To that end, here's how to control who comments on your Instagram posts to ensure that your experience with the app is nothing but puppies and rainbows — or at least not a trifling breeding ground for nastiness.
In a blog post published on Wednesday, Instagram introduced its new safeguards against any comments that its users may not want to deal with, whether that means body-shaming comments from anonymous trolls or a ceaseless proposition from Joe Schmo to go on a date. This builds off a tool that the social media app had implemented previously allowing users to stop offensive comments from showing up by keyword and takes it to the next level. Now, according to the company's announcement, anyone with a public profile can decide who can comment on their posts without forcing the users to disable comments entirely. Because that's certainly no fun.
It's super handy, and, luckily, it's also pretty easy to do. According to CNET, all you need to do to decide for yourself who gets to comment on your photos and video is open the app and tap the icon at the bottom right of the screen. From there, go to the menu and then the "Comments" option. In the "Allow Comments From" section you access next there are four options: everyone, people you follow and your followers, people you follow, and your followers. Go crazy, play around with it, and figure out which one works best for you. You can always change it later.
And even those with private accounts can exercise come control over who gets to share their thoughts and opinions in their comments sections. Using the "Block Comments From" option, all users can block individual accounts from their comments sections. After tapping the "Block Comments From" option, search for the person's name and then hit the "Block" button on their profile.
The addition of the tighter comment control features is part of a whole suite of changes to Instagram. From now on, the app will also allow users to anonymously report live video if they "see someone going through a difficult time or in need of support during a live broadcast," according to the blog post.
When a live stream is reported, the user broadcasting it will see a message with some options that could help them. This includes a prompt to call a helpline, talk to a friend, or access other support. "We have teams working 24 hours a day, seven days a week, around the world to respond," the post reads. That's good news, considering that it's not uncommon to hear about instances of people harming or even killing themselves while streaming live on Instagram.
Instagram has also made it possible for users to filter out offensive comments in Arabic, French, German, and Portuguese; this ability became available to English-speaking users in June.
Even with these new protections, it's very unlikely that all the hate will ever be sapped from Instagram in particular or social media in general. Still, these new tools are a great step in the right direction in empowering users to construct the Insta experience that will bring them the most joy.
Watch Romper's new video series, Romper's Doula Diaries:
Check out the entire Romper's Doula Diaries series and other videos on Facebook and the Bustle app across Apple TV, Roku, and Amazon Fire TV.