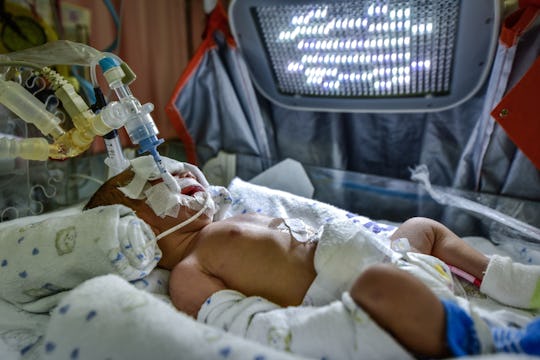 Chalie Chulapornsiri/Shutterstock
How To Cope With NICU Depression, From A Mom Who Spent 22 Days There With Her Son
Having a baby in the Neonatal Intensive Care Unit (NICU) is a devastating experience. When you imagine the first moments of your baby's life, you dream of lovingly staring into each other's eyes and holding their warm, soft body tightly against yours — not seeing them whisked away in a flurry of fear and drama. But for reasons completely out of your control, NICU stays are relatively common, and they can put a huge mental strain on moms and dads. If you're trying to understand how to cope with depression when your baby is in the NICU, you should know that there are lots of resources available to you.
I know first-hand how terrifying, stressful, and lonely a NICU stay can be. My son spent the first 22 days of his life in the NICU, nine of them hooked up to a breathing tube that kept him alive. I met parents who breezed in and out in a couple of days, others whose little ones would spend the better part of a year there. The length of the stay didn't seem to have much to do with how moms and dads coped, however. Dr. Anthony Orsini, Vice-Chairman of the Department of Neonatology at Winnie Palmer Hospital for Women and Babies in Orlando, FL, says emotional upheaval is just par for the course in the NICU. "It's very common for parents of babies in the NICU to feel depression. They feel that somehow they did something wrong, that maybe the baby was born premature because of something they did."
It's not the parent's fault, of course, but it can be difficult to shake the feeling that it is. That can be one of the many issues that lead a parent to become depressed. And while it's natural to want to focus all your energy on your child's recovery, it's important to also take time to deal with what you're feeling. Orsini, who also runs a program called "It's All in the Delivery" to train hospital staffers on treating patients with compassion, says there's one thing he wants moms and dads to realize about their NICU experience: "Not only is the baby our patient, but the parent is our patient, too." If you're struggling to deal with everything or a single thing, doesn't hesitate to reach out — your baby needs you to be your happiest, healthiest self.
Here are 7 tips for dealing with depression when your newborn's in the NICU.