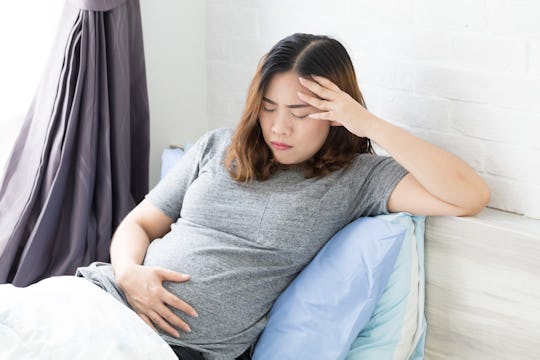 Narong Jongsirikul/Fotolia
7 Things A Pregnant Woman Should Absolutely Never Do To Cure A Headache
I have even been known to say that I would choose the pain of birth as opposed to the whole body throbbing associated with my chronic migraines, because at least with birth there is an end in sight. When it comes to head pain, you never know how long it will last — my worst migraine was six straight days of hell. When you're in the midst of that pain, you would try almost anything to find relief, but knowing how to cure pregnancy headaches means knowing what you shouldn't do to cure one. You'll want to be careful if you are carrying a little one.
According to the American Pregnancy Association (APA), if you experienced headaches or migraines before pregnancy, then your changing hormones could cause their occurrence to go either way. The APA noted, "migraine headaches are like the lottery when it comes to pregnancy," but that sounds like a potentially very unlucky lottery if you ask me. The good news? Some people really do notice a decrease in chronic head pain when they are pregnant, yours truly included. I didn't have a single migraine when I was pregnant with my daughter.
But if you do experience head pain while you are pregnant, then you might need to avoid a few of your tried-and-true measures for finding relief. Below, I help you suss out the details.