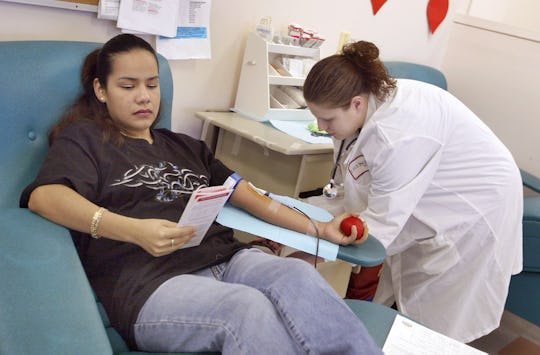 Tim Boyle/Getty Images News/Getty Images
Here's How To Find Out Where To Donate Blood In Florida
Yet another school shooting is in the news. This time the nation watched as 17 people were gunned down in a high school in Parkland, Florida. It's easy to feel helpless in these times. While we need better gun regulations and better mental health resources moving forward, those changes take time and will not help the victims who were injured in the shooting, who need more immediate aid. To make sure that the victims' medical needs are met, particularly those who have had blood loss, there are ways people can help by donating blood to aid the Florida shooting victims.
WCNC reported that the blood needs of the victims are currently met, but they have severely depleted the blood supply in South Florida, particularly O negative blood, which is the universal donor. One Blood, an organization that collects and distributes blood to the hospitals in Florida, South Georgia, and Alabama, has many blood drives organized for the Parkland and Broward County areas of Florida in the next few days. It's easy to find a donation location on the One Blood website.
If you're not in South Florida, you may not be able to directly help the victims or the community of Parkland today, but it's still a good time to consider donating blood. The American Red Cross's blood donation slogan is, "The need is constant. The gratification is instant. Give blood." Having all types of blood stored is important for every community, and in times of mass trauma, blood centers across the country will help each other meet the need.
Patty Corvaia, External Communications Manager of the New York-Penn Blood Services region of the American Red Cross, tells Romper that regions will often share their banked blood with other regions that are facing crisis. Corvaia herself has donated blood and knows that some of it has made its way to Maryland, and some went directly to Puerto Rico after the hurricane. This gives new meaning to the phrase, "Think globally, act locally."
O negative blood is especially valuable in a crisis, Corvaia says, because when you're in a situation where you can't ask for a patient's blood type or take the time to send it to the lab for typing, O negative serves everyone. So while everyone should donate if possible, consider O negative as liquid gold. Also, it's not easy to come by: In the United States, only 8 percent of Caucasians, 4 percent of Latino-Americans and African-Americans, and 1 percent of Asian-Americans are O negative, according to the Red Cross. So, please consider great community service of donating blood as often as you are allowed, which is typically eight weeks, detailed the Red Cross.
Blood donation is really easy. The New York Blood Center recommends setting aside about an hour for the entire session (which includes filling out forms), but the actual donating procedure takes about 10-12 minutes. Corvaia explains that each donation can help as many as three people. That's a lot of bang for your effort. After you donate, you are given water or juice and get to munch on some cookies. No joke, the Lorna Doones are a big reason I'm a frequent donator.
If you think this is the type of action you want to take part in, there are several ways to find a place to donate. You can go to the American Red Cross's website or call 1-800-RED-CROSS (800-733-2767). A simple "blood donation" search in Google will also pull up organizations in your area. Places in your local community (churches, schools, and community centers) are also probably hosting blood drives throughout the year. And the Red Cross also has a handy blood donor app that helps volunteers locate where they can donate.
High school and college students' donations make up 20 percent of the blood supply, according to Corvaia. Some of them may be doing it go get out of class, but they are the most dedicated donors in the system. It really doesn't matter why a person donates though, just that they do if they are able. Every two seconds, someone in the United States needs blood, she explains — all the more reason not to wait until the next tragedy to get to the nearest blood bank.
Check out Romper's new video series, Bearing The Motherload, where disagreeing parents from different sides of an issue sit down with a mediator and talk about how to support (and not judge) each other's parenting perspectives. New episodes air Mondays on Facebook.