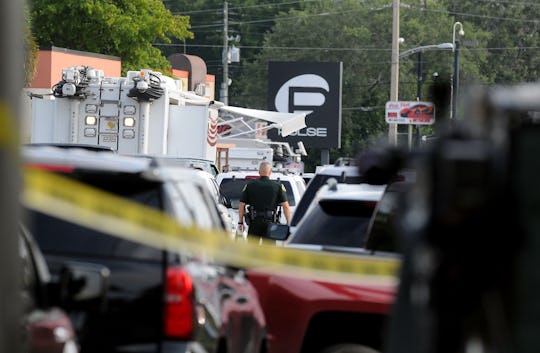 Gerardo Mora/Getty Images News/Getty Images
How To Donate Blood To The Orlando Nightclub Shooting Victims
In the aftermath of the senseless shooting early Sunday morning at a gay nightclub in Orlando, which left at least 50 dead, many people not directly affected by the violence are heartbroken and wanting to know how to help. There is an urgent need for people willing to donate blood to the Orlando nightclub shooting victims — and all it requires is a trip to your local blood bank. If you're around the Orlando area, you can find the best location for you by calling 1.888.9Donate or by visiting www.redcrossblood.org. If you're located elsewhere in the country, the Red Cross website has more information.
(Update: The FBI has updated the death toll to 49 victims. The shooter was also killed.)
The massacre occurred at a nightclub called Pulse. The gunman, who police have identified as Omar Mateen, opened fire around 2 a.m. and held hostages for hours, before being killed by a SWAT team trying to rescue the victims. The FBI reports that Mateen may have had radical Islamic leanings, but that is unconfirmed. Although initial reports placed casualties around 20, the AP recently confirmed that the death toll is up to 50, which makes it the worst mass shooting in United States history. At least 53 people were injured in the attack, and the hospitals currently treating those victims need more blood.
A news release from the blood bank network OneBlood called particularly for O Negative, O Positive, and AB Plasma blood donors in Florida. Would-be donors should go to their local blood banks rather than to hospitals, which may already be overwhelmed.
While the need is greatest in the Orlando area, anyone who wants to donate should, no matter where they're located — that is, assuming they meet the requirements. Gay men are still not allowed to donate blood unless they have refrained from sex with a male partner for over a year, so many people in the Orlando area who desperately want to help the victims of this attack on the LGBT community are not allowed to do so. This makes it all the more important that allies do their part (and that we take a look at further revising FDA guidelines on who is allowed to donate blood).
In a horrifying time, at least it is heartening to hear that, already, Orlando blood donation centers have been flooded by people wanting to help. So many people went to the OneBlood website that, at one point, it crashed. At some blood banks, lines have run out into the street.
For families who need to get updates on their loved ones, a police hotline with information can be reached at 407-246-4357.