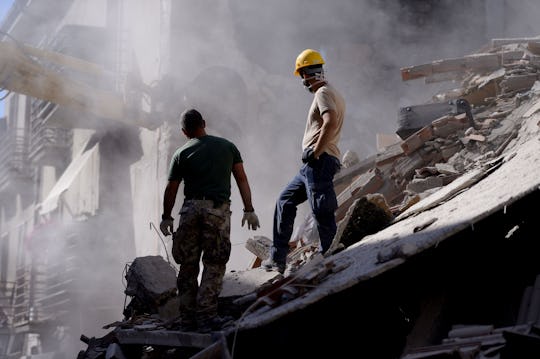 FILIPPO MONTEFORTE/AFP/Getty Images
How To Donate Money To The Italy Earthquake Victims From Any Location
On Tuesday evening, a powerful earthquake struck central Italy, flattening villages and killing at least 70 people. Hundreds were left completely homeless, and 1,000 people are expected to spend the night in government built camps. "Three quarters of the town is not there anymore," Sergio Pirozzi, mayor of Amatrice, a village in the epicenter of the earthquake, told state broadcaster RAI. "The aim now is to save as many lives as possible. There are voices under the rubble, we have to save the people there," he said. If you're hoping to lend a hand, there are several ways you can donate resources or money to the Italy earthquake victims, no matter where you live.
Straddling two fault lines, Italy is one of the most seismically active countries in Europe. This earthquake is the second to hit the region in less than 10 years. Italy's government was forced to use construction equipment to pluck people trapped under the debris. The ground kept trembling through the night, as more than 100 aftershocks rocked the region. The death toll is expected to rise.
Beyond the human tragedy, the earthquake caused dozens of historic buildings, some dating back to the middle ages, to crumble to dust. For those looking to help in face of this tragedy, there are several options.
If You Are In Italy
Those living in Italy can offer immediate assistance to victims, by donating blood and even their internet access. The San Camillo de Lellis General Hospital in Rieti, the province struck by the quake, has called for urgent blood donations, as has Avis, Italy's central blood donation organization. The Red Cross is also asking residents to turn off WiFi passwords, to facilitate communication in disaster areas. Finally, be sure to mark yourself and your family as "safe" on Facebook's security check feature.
If You Are Abroad
Consider donating to several organizations working to help victims on the ground. Global Giving is one NGO that has set up a donation fund to help send food, clean water and medicine to victims on the ground. The Italian Red Cross's National Emergency Fund is using donations to send rescue dogs to areas of destruction to sniff out survivors. Shelter Box is another great option. The group delivers boxes of tents, lamps, water purifiers and toys to victims after disasters.
The earthquake in central Italy is a devastating reminder that life can change at the drop of a hat. Everyone, no matter where they live, can do their part to help the victims as they struggle to return to normal.