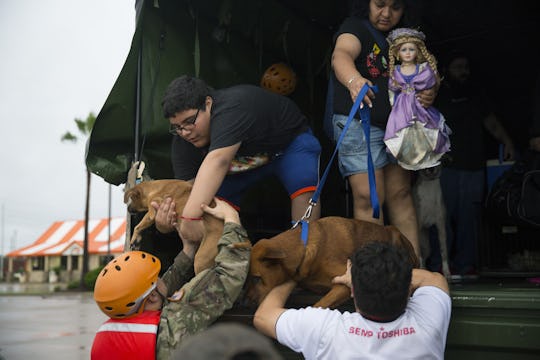 Erich Schlegel/Getty Images News/Getty Images
How To Use Facebook To Raise Money For Hurricane Harvey Relief
For the past four days, the state of Texas has been in a state of emergency and of devastation. Hurricane Harvey barreled across the Texas coast Friday night, and has remained hovering over the state since, bringing with it a torrential downpour of rain. The city of Houston and other surrounding areas have been almost completely flooded as the result of Harvey's outlying effects. And so, as news reports continue to update the rest of the nation about what's going on in Texas, many are wondering what they can do to help. Fortunately, there's a way to donate to hurricane Harvey relief on Facebook, so making a difference is actually pretty easy.
Likely, if you've checked Facebook since the disaster, you've seen a little notification pop up telling you that you can donate to disaster relief right there on the site. And even though using social media to make a charitable donation might seem too good to be true, it's actually a great way to donate, and spread the word. Charitable Giving on Facebook, as it's known, exists to provide users with "new ways to connect and collect contributions directly on Facebook." Not only can you use Facebook to find organizations that really need help, but you can also start a fundraising goal yourself, and invite friends and family to donate.
If you haven't had a notification from Facebook prompt you to donate, you can still easily do so. Simply click on the "Fundraisers" tab on the left-hand side of your Home page, and you will be redirected to Facebook's charity navigation page. From there, you can easily find charities to donate to that are helping with hurricane relief. To see a list of organizations helping with Harvey devastation, click on the "Crisis Relief" link on the right-hand side.
However, there is also a way to use Facebook to get even more directly involved with relief efforts. By choosing the "raise money" option on Facebook's Fundraisers page, you can choose a nonprofit to raise funds for. Even better, if you know someone directly impacted by Harvey who could use some help, you can raise money for them.
Facebook's donation platform is a great way to see your money go straight to use, as most of the nonprofits you can donate to have been posting updates about their efforts. And there are plenty of organizations that could definitely use your help. The Houston Food Bank, Team Rubicon USA, Texas branch of the SPCA, and the Texas Diaper Bank are all doing great work in the Houston and Gulf Coast area.
Whether you choose to use Facebook's fundraising platform or not, the people of Texas could use any help at all, and your donations are greatly appreciated.