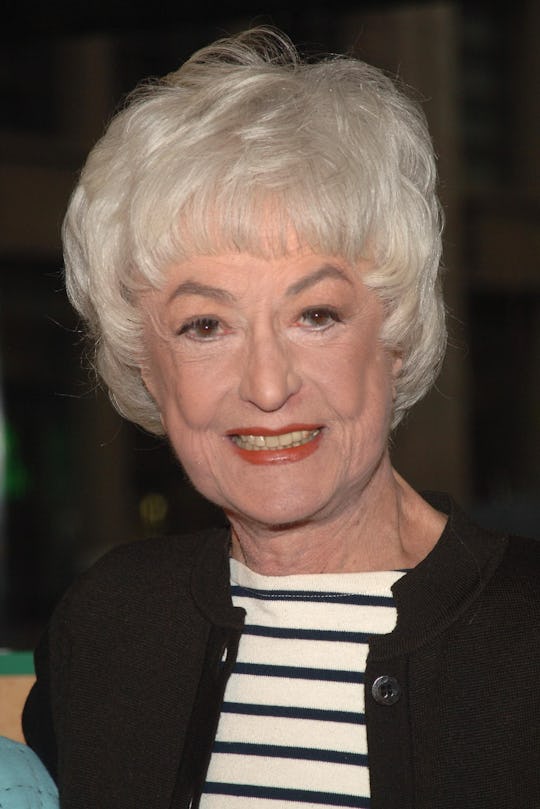 Brad Barket/Getty Images Entertainment/Getty Images
How To Donate To The Bea Arthur Shelter, Because Homeless LGBT Youth Need Help
When Golden Girls star Bea Arthur learned that many lesbian, gay, bisexual, and transgender youth are homeless simply because their families reject them for being who they are, she did not quietly accept that disturbing information. Instead, the actress made it her personal mission to remedy this travesty. Now, thanks to her monetary gifts and dedication to the cause, a homeless shelter for LGBT youth named after her will soon open. But marginalized, homeless, and often hopeless LGBT teens need all the help they can get, so here's how to donate to the Bea Arthur shelter.
Arthur was in her eighties in 2005 when she revived her one-woman Broadway benefit to raise ultimately raise $40,000 for the Ali Forney Center, a New York City-based community center that helps that vulnerable population. She then continued to use her fame and status to promote the organization's work until she died in 2009 — and willed $300,000 to the center, just as it was in danger of having to shutter its doors to those who needed it most because of financial struggles during the economic downturn of that time.
"These kids at the Ali Forney Center are literally dumped by their families because of the fact that they are lesbian, gay or transgender — this organization really is saving lives," Arthur said in an interview with Next Magazine before her death, CNN reported.
Now, Arthur continues to assist in saving and transforming those lives, as the Bea Arthur Residence, an 18-bed shelter in New York City, is scheduled to open in early 2017. It's a city-funded project that will ultimately cost about $3.3 million, according to DNAinfo New York, but it may never have become a reality without Arthur's generosity when the Ali Forney Center was a fledgling nonprofit struggling to provide the housing and services many LGBT youth desperately need.
Now, the center owns and operates 10 such housing sites. The latest addition will be home to its Transitional Housing Program, which assist the residents in gaining independence by connecting them with case manager to help them establish educational and vocational goals and create plans to save money, and more. City, state, and federal agencies fund these facilities and program in part, according to the Ali Forney Center's website, but individual donations propel them forward.
To help ensure that the center can sustain the work it's doing now, as well as expand, anyone can support the Bea Arthur Residence simply by visiting the site's donation page here, and determining how much to contribute. There's even a gift-matching option for employers, and it's possible to set the donation to automatically recur monthly.
LGBT youth are some of the most vulnerable people in our society. The Williams Institute reported in 2012 that 40 percent the the youth agencies serve identify as LGBT, a disproportionately high number. Arthur recognized what an urgent task it truly is to make sure that kids whose families reject them for their sexual or gender orientations have a safe, loving place to go, and that they get the support they need to grow into adults they were meant to be. One of the most beautiful things about her actions is that we can all build on them to honor her legacy.